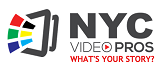 New York, New York (PRWEB) June 27, 2017
Strategic media opportunities have grown and developed over the course of the last 11 years, and NYC Video Pros (http://nycvideopros.com) has worked with a wide variety of clients to develop audio and video outreach campaigns in that time.
"Since we launched to leverage Podcasts for our clients, the landscape has changed and so many new opportunities have opened up for organization's to tell their stories," says Jason Cohen, executive producer. "At NYC Video Pros we always have been, and always will be, driven by customer service and committed to high production values at reasonable rates."
NYC Video Pros was launched in 2006 as a podcast production service, for PR & marketing professionals just as podcasting was emerging. The company grew quickly and evolved with the growing technology platforms to meet client's needs and develop custom corporate video production solutions.
"We are experienced in a wide variety of sectors, including corporate, education, healthcare, finance, events, social media, and many more," highlights Cohen. "We've shot on locations coast-to-coast at various corporate campuses, hospitals, and sensitive military locations, as well as in the studio environment."
The company distinguishes itself by offering a turnkey, flat-rate solution that encompasses everything from the brainstorming session through creative development and production.
Today's corporate communications and marketing professionals demand high-quality video content that they can share and make easily available on today's wide range of digital devices. To meet that demand, NYC Video Pros focuses on identifying strategic opportunities to help clients develop video assets that can be used in marketing, social media, and public relations campaigns. Cohen adds, "We take service seriously and take great pride in offering our services with a smile."
NYC Video Pros works globally from their home base in New York. For more details, visit nycvideopros.com/solutions.
About NYC Video Pros
We are a leading video production company in New York City. Video production runs in our blood. It's in our DNA.
We have vast experiences from shooting on-site to working in-studio to help organizations of all kinds and sizes produce high quality video content.
Our experienced team is dedicated to producing content with the utmost in professionalism, and a keen eye on the bottom line to ensure that our solutions are affordable and can be scaled to meet the needs of the smallest projects, to the largest productions.
Our approach is simple; you talk, we listen; our production solutions are client-driven, and personalized based on the specific needs of your project.
Contact Details:
New York Video Pros
41 Madison Avenue
Floor 31
New York, NY 10010
Phone: (212) 931-4866 / 1-866-931-4866
Source: NYC Video Pros
###