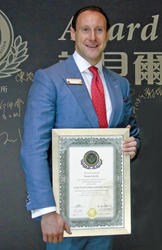 CEO Brooke Greville said: 'More businesses should utilise the positive benefits of setting up mentoring schemes.'
(PRWEB UK) 26 June 2017
The Prince's Trust's outstanding mentoring work was officially recognised in Asia during a prestigious award ceremony supported by Nobel Prize winners.
And more businesses were encouraged to take up similar mentoring schemes to both give back to society and learn valuable lessons.
The Social Caring Nobel Laureate Awards was set up to recognise businesses that have incorporated socially responsible schemes into their everyday work practise.
One of the major winners was UK-based investment company G Entertainment whose CEO Brooke Greville was presented with the Asian Social Caring Leadership award during the dinner held at the Ritz Carlton Hotel in Hong Kong.
As well as praising the trust's scheme, Mr Greville insisted that more businesses should reap the rewards that come with adopting a positive mentoring policy.
'More businesses should utilise the positive benefits of setting up mentoring schemes. As well as giving practical help to others, the schemes create valuable lessons for mentors who have to devise new ways to solve problems and improve communication skills,' he said.
G Entertainment was recognised for making mentoring a corner stone of the company's ethical policy assisting employees to give time and guidance to socially disadvantaged groups.
The Prince's Trust's role in helping G Entertainment to develop this good practise through it's Mosaic initiative was heavily praised at the ceremony.
Mosaic specialises in offering accredited mentoring in schools for children in deprived areas has helped the company develop its mentoring policy.
In 2015, Mr Greville personally mentored a team of secondary school children from Hackney in east London that went on to win Mosaic's Enterprise Challenge. Incredibly, that win was repeated by the same school this year after G
Entertainment's strategy consultant Zoe Fiddes was given time to help guide and advise the children during the same competition.
Nizam Uddin, head of communications for Mosaic, who attended the event in Hong Kong earlier this month, said: 'Mosaic and The Prince's Trust have been very fortunate to have the support of G Entertainment, and Brooke Greville in particular, through their work on the Mosaic Enterprise Challenge. It is unprecedented for a company to have mentors involved with the national winning team of our Enterprise Challenge competition and win twice but that is what G Entertainment have done.
It is in no small part to their commitment to giving back and promoting excellence with all of their activities, and we are very thankful. We hope the relationship long continues.'
Mr Greville was presented with his award on stage by Professor Shuji Nakamura, who won the Nobel Prize for Physics in 2014 for inventing the blue LED which is used in Blu-rays has enabled bright and energy-saving white light to be produced. The other Nobel Prize winner to attend the event was Professor Arieh Warshel who became a Laureate in 2013 for his work in Chemistry after developing accurate computer models of chemical reations.
The awards panel praised Mr Greville for not only giving up his own time for mentoring but for allocating time to staff to help others both inside and outside of the company.
Mr Greville was quick to praise the work of Mosaic and The Prince's Trust saying: 'Our passion for mentoring has grown thanks to the outstanding work by Mosaic.
'The charity has set up a very strong and diverse network that makes it easier for companies and individuals to dedicate time to helping, directing and inspiring others.
'In fact we were ourselves so inspired by Mosaic's schemes that we decided to adopt mentoring as a key cornerstone of our business. It's not only incredibly rewarding work but it teaches a lot of valuable lessons that help to create good business policies.'