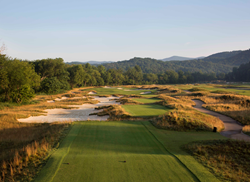 Travelers Rest, S.C. (PRWEB) June 26, 2017
The Cliffs, a collection of seven private luxury mountain and lake communities, is included in Golf Digest's 2017-2018 "Best in State" rankings. The publication honors the courses at four of The Cliffs' communities, including Mountain Park, Keowee Vineyards and Keowee Falls in South Carolina, as well as Walnut Cove in North Carolina.
Set within the scenic backdrop of the Blue Ridge Mountains, each golf course at The Cliffs is member-friendly yet challenging and uniquely designed to complement its landscape and environment.

"It is an honor to have four of our seven courses acknowledged as Best in State by Golf Digest," says David Sawyer, President of The Cliffs Clubs. "Our team is committed to providing our members with a well-rounded luxury lifestyle that focuses on wellness and we are thrilled to receive continued recognition for our spectacular and diverse golf program."
In addition to the seven unique golf experiences, The Cliffs provides members with a comprehensive suite of amenities including six wellness centers, beach club, marina, tennis courts, an equestrian center, hiking trails, vineyards, organic farm and a number of year-round social activities.
Golf Digest reaches over 1.6 million readers per month and is considered one of the industry's leading golf publications.
To view Golf Digest's rankings for "The Best Golf Courses in South Carolina," click here. To view rankings for "The Best Golf Courses in North Carolina," click here.
For more information on The Cliffs, please visit http://www.CliffsLiving.com or call 866-411-5771.
Click here for images of The Cliffs' championship golf courses.
About The Cliffs
The Cliffs is a collection of seven premier private, luxury residential mountain and lake club communities located in the Carolina Blue Ridge Mountains, between two of the nation's top award-winning cities for quality of life – Greenville, S.C. and Asheville, N.C.. The Cliffs' suite of amenities for members includes seven clubs, seven nationally recognized golf courses, six wellness centers, boating, watersports, marina, beach club, cycling, paddle sports, tennis complexes, equestrian center, hiking trails, wakeboarding, wine clubs, 50 restaurant and private event venues, an organic farm and more than 4,000 year-round programs and social activities to create timeless experiences. Homes at The Cliffs range in price from $350,000 to $6million+ and homesites start at $125,000. The Cliffs also offers professional and national club memberships. For more information about The Cliffs, visit http://www.CliffsLiving.com. Contact The Cliffs at 866-411-5771 or info(at)cliffsliving.com to learn more about real estate, membership or arrange a visit.