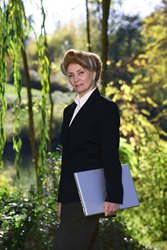 Grants Pass, OR (PRWEB) June 26, 2017
Like the DC super heroine currently trampling attendance records at movie houses everywhere in the world, respected global water advocate Sharon Kleyne has been around for a long time expressing values and sharing information we all need to hear.
Kleyne, respected worldwide as the 'Wonder Woman' of new water research, is founder and director of Bio-Logic Aqua® Water Life Science®. Kleyne is also the host of the nationally syndicated radio program The Sharon Kleyne Hour Power of Water, Global Climate Change and Your Health on VoiceAmerica sponsored by Nature's Tears® EyeMist® where she is always teaching listeners about the importance of water in the atmosphere and the body. She painstakingly teaches the natural evaporation process that begins the moment we leave our mothers' watery wombs and continues until death. "We need the water vapor in the atmosphere," says Kleyne, "in order to breathe; we also need to supplement our body's water vapor every day by drinking 8 to 10 glasses of water and misting our skin and eyes with one hundred percent pure water."
"Fresh water, which is also a living organism, is essential to all life on the planet," says Kleyne. "and right now it's diminishing, throwing our ecosystem out of balance. Water is also necessary if we're going to get back to the business of developing cures. Even the immune system is seriously affected by evaporation of body water. If we do these things," Kleyne continues, "we can reduce our susceptibility to disease and illness." Unfortunately, too many people don't do these things and medical conditions and costs have skyrocketed in the last hundred years. Whereas once medicine focused on curing illness, the field of medicine often treats illness and disease today with pharmaceutical drugs. "In the twentieth century," says Kleyne, "we saw the birth of more than 200 new diseases, yet only ten cures were found. In some ways, we've lost our will to cure."
Kleyne would like to see our world and medical leaders make a concerted call for cures and the research that will lead to them. "We need to envision and plan big," says Kleyne, "because by merely treating the symptoms, we're only delaying catastrophic consequences that will come of weakened immune systems due to the application of drugs, drugs and more drugs." Kleyne wants comprehensive government and private sector plans to replace relieve-the-symptom policies with a find-a-cure-now mindset.
Despite the heavy preponderance of pharmaceuticals in the medical field and innumerable setbacks, Kleyne remains optimistic that we can create a new golden age of medicine in which maintaining health is everyone's top priority. "We must have the will to succeed," says Kleyne. "If we have that, the cures and all the rest will follow." Like the legendary Amazon who is dedicated to ending war, Kleyne continues boldly to attack the pharmaceutical mindset, calling for new research and new technology dedicated to curing sickness and disease, not merely treating or masking them.