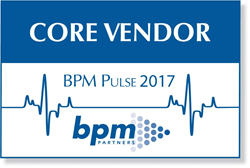 (PRWEB) June 27, 2017
Prophix Software, a global leader in developing Corporate Performance Management (CPM) software, announced a strong rating in the BPM Partners 2017 Pulse of Performance Management study. Prophix improved significantly from last year, moving from 8th place to 5th place.
Based on a five-point end user rating, Prophix achieved a rating of 4.65. This places Prophix in the top five against all CPM players ranked in the study and positions Prophix as a leading vendor focused on mid-market.
The BPM Partners survey noted strengths of Prophix include: "Ease of Use, Low Total Cost of Ownership, Beyond Finance, Powerful Modeling, Detailed Salary Planning, Collaboration. A unique strength is detailed planning that provides additional granularity down to the sub-ledger level for enhanced operational execution."
The Pulse of Performance Management is designed to provide an unbiased and up to date overview of the world of business performance management. Respondents indicate that when evaluating budgeting & planning solutions that meet their business requirements, ease of use is the most important differentiator.
"Our market presence is strong and growing, as evidenced by the BPM Partners survey results," said Alok Ajmera, President & COO, Prophix Software. "This only strengthens our strategy to offer best-in-class software, industry-leading service and an exceptionally easy user experience."
To access the BPM webinar replay:
http://www.industryweek.com/webinar/pulse-performance-management-2017?partnerref=BPM-PST