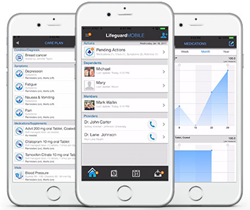 PHILADELPHIA and WAYNE, PA (PRWEB) June 27, 2017
Jefferson Health and Lifeguard Health Networks announced a strategic collaboration to deliver a novel integrated care platform for patients and trusted family caregivers managing complex health conditions. Jefferson Health will begin using Lifeguard's integrated care solution, LifeguardMOBILE™, for remote patient monitoring and support, starting at Sidney Kimmel Cancer Center (SKCC) at Thomas Jefferson University.
"We are partnering with Lifeguard Health because creative partnerships and relationships with start-ups like these play an important role in improving treatment outcomes in non-traditional ways," said Stephen K. Klasko, MD, MBA, President and CEO, Thomas Jefferson University and Jefferson Health. "We are thrilled to launch this service with our patients in the Sidney Kimmel Cancer Center at Jefferson and we look forward to rolling this out further in the future."
Lifeguard's Integrated Care Network (ICN)™ will enable Jefferson and the Sidney Kimmel Cancer Center staff to track patient adherence to a therapeutic plan that may include medication regimens and treatments while also monitoring clinically relevant patient information, such as symptoms and side effects, vital signs and lifestyle changes. The Lifeguard solution will be used by the patient, at-home caregivers and others in the patient's circle-of-care to inform healthcare providers of patient progress between clinical visits. Supporting the National Cancer Institute's new model of cancer care, SKCC's Lifeguard program will support care plan management, caregiver activation, as well as patient monitoring and intervention.
"Jefferson and Lifeguard have entered into a strategic, multi-year enterprise agreement to improve the patient experience and outcomes with our technology, beginning with cancer patients and expanding from there," said Martin Carty, CEO and co-founder of Lifeguard Health Networks. "Our collaboration with the team at Jefferson and the Sidney Kimmel Cancer Center will provide key insights and feedback to help us further develop our innovative digital health solution for the U.S. cancer community and beyond."
How it works
Lifeguard's Integrated Care Network (ICN)™ takes full advantage of cloud services, enabling access anytime/anywhere for patients and their caregivers, through their smartphones, to manage care at home and communicate passively (monitoring and virtual triage of patient reported measures) and actively (phone, message, video) with their care providers.
"A patient's caregivers have traditionally provided support, encouragement and physical care but are often a forgotten resource within the health system," said Danielle Guttman Klein, Executive Vice President and co-founder of Lifeguard Health Networks. "We created LifeguardMOBILE™ because our experiences as patients and caregivers told us there had to be a better way to bring the entire care team together. We look forward to a long and valued partnership with Jefferson to better serve patients, caregivers and providers on the journey to better health."
Sidney Kimmel Cancer Center's Lifeguard program creates "clinical connectedness" and enables the patient and authorized caregiver(s) to coordinate and co-manage patient care through their smartphones, and communicate with the clinical team at SKCC. Lifeguard will allow continuous electronic capture of healthcare monitoring in the home setting, complementing the electronic medical record that Jefferson uses in outpatient clinics and inpatient units, thus giving the care team a 360-degree view of the patient experience.
"Of the many thought-leading programs we are implementing at SKCC, we are particularly excited about our collaboration with Lifeguard Health Networks. The Lifeguard platform enhances the patient care experience allowing our team to virtually extend clinical reach into the home," said Karen Knudsen, Ph.D., Director of the Sidney Kimmel Cancer Center and the Hilary Koprowski Professor and Chair of Jefferson's Department of Cancer Biology.
###
About Jefferson
Jefferson, through its academic and clinical entities of Thomas Jefferson University and Jefferson Health, including Abington Health and Aria Health, is reimagining health care for the greater Philadelphia region and southern New Jersey. Jefferson has 23,000 people dedicated to providing the highest-quality, compassionate clinical care for patients, educating the health professionals of tomorrow, and discovering new treatments and therapies to define the future of care. With a university and hospital that date back to 1824, today Jefferson is comprised of six colleges, nine hospitals, 35 outpatient and urgent care locations, and a multitude of physician practices throughout the region, serving more than 100,000 inpatients, 373,000 emergency patients and 2.2 million outpatients annually.
About Sidney Kimmel Cancer Center
A leading center for practice-changing discovery and comprehensive cancer treatment, the Sidney Kimmel Cancer Center of the Thomas Jefferson University has been known as a Designated Center by the National Cancer Institute since 1996, and is one of only 69 institutions in the nation to hold this prestigious recognition. SKCC is committed to delivering the most advanced, personalized cancer care, made possible through their scientific discoveries and breakthroughs in detecting and treating cancer. SKCC provides access to advanced clinical trials and novel treatment strategies throughout the Greater Delaware Valley, realized through our integral sites in Center City Philadelphia, Abington, Aria, and the comprehensive, Sidney Kimmel Cancer Center Network. Routinely ranked amongst the top hospitals for cancer care in the United States by US News & World Report, the multi-disciplinary teams at SKCC bring together specialists for treatment planning, which results in some of the highest survival rates in the nation.
About Lifeguard Health Networks
Lifeguard Health Networks is the leading mobile health platform providing hospital networks, specialty clinics and community care providers a digital channel to support "at-risk" patients and their caregivers in the home. Lifeguard's Integrated Care Network (ICN™) bridges the gap between clinical visits with the end goal of helping patients, their loved ones, and their care providers achieve better health outcomes. Headquartered in Wayne, Pennsylvania. Press Contact: 484-581-7410 or media(at)lifeguardmobile(dot)com.