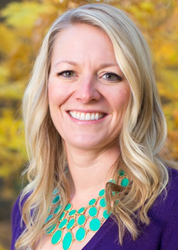 Fitchburg, WI (PRWEB) June 26, 2017
New patients with missing teeth in Fitchburg, WI, can now receive dental implant consultations from Dr. Angela Cotey, with or without a referral. Dr. Cotey is a trusted dentist who has placed many dental implants and enjoys teaching patients about the benefits of this preferred tooth replacement option.
Patients with missing teeth in Fitchburg, WI, are encouraged to find out if they are candidates for dental implants. Dr. Cotey is a respected dentist who offers dental implant placement as a long-term solution for one or more missing teeth. Dental implants offer many benefits that make them a highly attractive tooth replacement solution. In addition to being one of the most natural-looking tooth replacement options available, dental implants also offer impressive long-term reliability. The implant post is typically made from titanium, which is a strong material that is integrated well into the body. After the post is placed in the jaw, the bone begins to grow around it during a process called osseointegration. Once osseointegration is complete, the implant post integrates with the bone and will typically remain in place for up to 25 years or more with proper care.
Dental implants promote overall jaw health by stimulating and preserving the bone in the jaw. Other common tooth replacement methods do not offer this unique and beneficial function. Not all patients are good candidates for implants, especially those with compromised jaw bone structure. However, in some cases, one or more bone grafts may restore bone density and make it possible for patients to become candidates for dental implants.
Patients who are interested in receiving dental implants to replace their missing teeth in Fitchburg, WI, are encouraged to receive treatment from a qualified dental clinician. Dr. Cotey has years of experience in skilled implant placement and is a highly respected dentist. Individuals who wish to schedule an appointment with her are invited to call Village Smile Care at 608-433-2102.
About the Doctor
Dr. Angela Cotey is a general dentist offering personalized dental care to patients in Mount Horeb, WI. Dr. Cotey and her entire team take pride in offering the latest advancements in dentistry and dental technology to ensure each patient enjoys a comfortable experience with long-lasting results. Dr. Cotey combines advanced dentistry with a fun and friendly style. She is a member of numerous professional organizations including the American Dental Association, the Wisconsin Dental Association, American Academy of Cosmetic Dentistry, Fellow in the Academy of General Dentistry and current President of the Wisconsin Dental Study Club and Madison Dental Progress Forum. To learn more about Dr. Cotey or the services she offers, please visit her website at http://www.villagesmilecare.com or call 608-433-2102 to schedule an appointment.