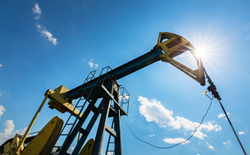 Once in a generation we see an opportunity like this, to acquire quality assets at a discount.
Chicago, Illinois (PRWEB) June 27, 2017
The recent story in the NY Times "Oil Prices: What to make of the Volatility" paints a clear picture of the current state of the Oil business. After climbing to a recent peak of $54.45 per barrel in February, the price of U.S. produced crude has fallen to $43.23, according to Bloomberg data, putting it back in bear market territory and at its lowest level since August. Despite the market volatility, Peak Energy Company continues to grow and is committed to investing in the region during the downturn, recently acquiring multiple oil and gas producing leases from American Oil Investments, Inc., with additional acquisitions in the pipeline scheduled to be closed in 2017.
"We are built to not only to survive but to thrive in this economic environment, our business model is designed to be profitable in bear and bull markets," said Peak Energy President, Todd Allen "Once in a generation we see an opportunity like this, to acquire quality assets at a discount."
Despite the CNBC commentary and market concerns, many analysts believe the future of oil is bright. The current administration supports industry efforts to build more pipelines and open up more federal lands and deep-water prospects for drilling. President Trump also says he would like to lower regulatory burdens on the industry and has expressed little sympathy for the Paris climate accord, which attempted to lower global dependence on fossil fuels.
At the same time, the President is considering re-instituting sanctions on Iran that could constrict Iranian exports. Since Iran is a major exporter, that could mean hundreds of thousands of fewer barrels a day on the world market, lifting prices for US Oil. As a well-capitalized company in the Illinois Basin, Peak Energy will continue to support local communities in troubled times, preserve American jobs and help the people that depend on US Oil production.
About Peak Energy Company
Peak follows a patient and disciplined approach, employing talented people, pursuing high standards of excellence and aligning our interests with those of all of our investment partners. Our strategy is straightforward; source, acquire and extract value from divestitures and distressed assets in the energy sector. Our industry veterans have more than 20 years average experience with the knowledge and extensive contacts to source, evaluate, acquire and operate selected projects to their greatest potential.