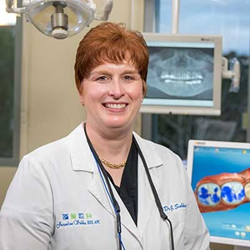 Thousand Oaks, CA (PRWEB) June 26, 2017
Dr. Jacqueline Subka is pleased to announce a new offer for those who are experiencing the damaging effects of gum disease. People can currently visit the dentist in Thousand Oaks, CA, for a complimentary consultation and CT scans. Those who qualify for laser gum therapy may also receive $250 off of the procedure. Using the minimally invasive BIOLASE WaterLase® laser, Dr. Subka targets infection, damaged tissue and bacteria below the gum line, cleaning the affected areas without the need for needles, scalpels and stitches.
To prevent gum disease, people should remove plaque through daily brushing and flossing and twice yearly professional cleanings with a qualified dentist in Thousand Oaks, CA. Even the most rigorous dental hygiene habits may not be enough to prevent bacteria buildup below the gum line for those who have risk factors such as tobacco use, hormone fluctuations or crowded, misaligned teeth. The microorganisms attack the sensitive tissues that support and protect the roots. Dr. Subka explains, "Patients who have periodontal disease, you not only have loss of gums, or gum recession, but you also have loss of the supporting bone structure of teeth. If we don't treat that, eventually you'll lose your teeth."
Traditional gum disease treatment requires cutting gum tissue, causing further trauma to the gums, and patients often have a difficult time preventing the return of infection during the healing period. WaterLase laser technology avoids the need for incisions, targets only infected tissue and cauterizes treated area to encourage fast healing.
To find out more about Dr. Subka's complimentary consultation and discount individuals can call 805-373-1919. Information about laser dentistry is available on her website at http://www.subkadds.com.
About the Doctor
Dr. Jacqueline Subka is general dentist offering personalized dental care for patients in Thousand Oaks, CA since 1999. Dr. Subka received her dental degree from the prestigious University of Southern California School of Dentistry in Los Angeles. Dr. Subka practices gentle dentistry and incorporates state-of-the-art techniques to provide leading, minimally invasive care. She and her team are committed to continuing education and strive to provide high-quality, personalized dental care to each patient. To learn more about Dr. Subka and the dental services she provides, visit her website at http://www.subkadds.com or call 805-373-1919.