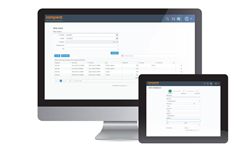 "Keeping restaurant managers mobile is essential and with the extended features, we are giving them everything they need to decrease labor costs, increase employee satisfaction, reduce management hours and paperwork."
Austin, TX (PRWEB) June 27, 2017
Compeat, the leading provider of integrated restaurant accounting, back office and workforce management software, announced today upgraded Labor and Schedule solutions designed to streamline workforce management for restaurateurs with improved scheduling tools, cross store hourly management, payroll-ready files and unmatched labor compliance rules.
With increased pressures in the industry on the labor market – labor competition, wages and laws - it is more essential than ever for restaurateurs to utilize technology in every aspect of their operations to reduce costs.
Compeat's Labor and Schedule solutions provide the restaurateur a completely mobile scheduler with weekly and daily scheduling allowing managers to create schedules from any tablet, desktop, and browser anytime and anywhere. Other unparalleled advancements include the ability to track and enforce employee meals and breaks, split shifts, spread of hours, double time pay, multi-job and multi-location shifts. Labor and Schedule delivers a POS Labor exception report daily alerting managers of inconsistencies or changes. All payroll-ready data automatically feeds into Compeat Payroll or can be exported to 3rd party providers such as Valiant, ADP, and Paychex - saving managers time and greatly decreasing human entry error.
"The new mobile redesign of our Labor and Schedule solutions delivers a best of breed experience - freeing managers from their desks so they can spend their time where it counts – on the floor supporting their team members and serving their guests," says Chris Albino, Senior Product Manager at Compeat. "Keeping restaurant managers mobile is essential and with the extended features, we are giving them everything they need to decrease labor costs, increase employee satisfaction, reduce management hours and paperwork."
Compeat's full featured Labor and Schedule management system has always been ahead of the competition by automatically applying all federal, state, and local labor laws to ensure the restaurateur stays compliant. Labor laws are built into the software to make easy for restaurant managers. When the punch data is polled from the point-of-sale, the software automatically applies appropriate labor calculations by jurisdiction.
Initial feedback has been extremely positive with Compeat customers reporting a 97% satisfaction rating and have claimed it's the most robust restaurant workforce solution available today.
"Kitchen labor used to be 5% higher than it should have been. Now, with Compeat it's exactly where it's projected to be. We've not missed one benchmark since implementing the software," says Max Pearcy, CFO at Bardenay Restaurant and Distillery.
"Our new Labor and Schedule is one of the best in the industry but it is the seamless integration with 60 POS providers and Compeat's Hire, Accounting, Inventory, Payroll and Intelligence that provides a greater value to our customers. All data is shared between all modules, providing restaurant management one set of balanced numbers at all times and all the data and insights to reduce prime costs, increase profitability and stay compliant," said Will Archer, Chief Technology Officer at Compeat. "Our customers enter the data once and have a central hub of data available for insights and ad hoc analysis."
About Compeat Restaurant Management Software:
Founded in 2000, Compeat offers innovative cloud-based restaurant management software that leverages technology to increase control, reduce costs, enhance insight and improve efficiency for restaurant operators. Compeat is the only fully integrated Accounting, Back Office and Workforce Solution. Products include Compeat Accounting, Inventory, Hire, Labor, Schedule, Payroll, Logbook and Intelligence, all designed in-house and specifically for the restaurant industry. For more information, visit http://www.compeat.com.