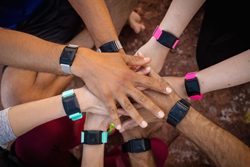 We are ecstatic to already be close to 600 percent funded for TouchPoints™ basic, and we couldn't have done it without our loyal supporters
Scottsdale, Arizona (PRWEB) June 26, 2017
Scottsdale-based wearable tech company The TouchPoint Solution™ has announced that its Indiegogo campaign is over 600 percent funded with more than two weeks left in the campaign (https://igg.me/at/touchpoints). The second wearable neurotech product launched by The TouchPoint Solution™, TouchPoints™ basic is a more affordable, simpler way for users to gain access to the powerful neurotechnology that earned TouchPoints™ original such monumental success. TouchPoints™ basic were designed with user experience in mind, and as such, it comes as no surprise that the Indiegogo campaign has made such a splash with consumers.
Similar to the company's first wearable tech product released in December, TouchPoints™ basic use BLAST (Bi-lateral Alternating Stimulation in Tactile form) technology, emitting gentle, alternating vibrations that alter the body's stress-driven Fight, Flight or Freeze (F3) response and restore homeostatic nervous system functioning. TouchPoints™ basic allow users to think clearly and experience calm in a completely effortless, non-invasive way- a revolutionary concept for a world that has accepted daily stress as unconquerable. The new devices were ingeniously designed to be incorporated into everyday life with ease. They come in a variety of fun, stylish colors, and operate independently of an app, making them ideal for users searching for robust stress relief with streamlined delivery.
In surpassing their first major stretch goal, TouchPoints™ continues to transform lives by awarding 10 additional scholarships as part of their Touch of Hope Scholarship Program. Scholarships are awarded to deserving individuals and families seeking liberation from the physical and emotional burdens of excess stress, and are provided based on financial need.
"Our goal has always been to bring relief to millions of people who suffer from stress and anxiety so they can be their best selves," said Dr. Serin, Ph.D., Chief Science Officer and Co-Founder. "We are ecstatic to already be close to 600 percent funded for TouchPoints™ basic, and we couldn't have done it without our loyal supporters. We are looking forward to the future growth and impact that this product will have on many more people."
The TouchPoint™ Solution's has also announced their second stretch goal of reaching 1,000 contributors. Continuing their commitment to community enrichment, they plan to build a garden for the Autism Academy for Education and Development in Gilbert, Arizona upon reaching their second goal.
TouchPoints™ basic are available to pre-order starting at $99 at https://igg.me/at/touchpoints. A set includes two TouchPoint™ devices (one for each side of the body) as well as charging cables, and clips for attaching the devices to clothes. Additional accessories, including colorful wristbands, are available for purchase separately.
About The TouchPoint Solution™
Neuropsychologist Amy Serin, Ph.D., and child advocate Vicki Mayo founded The TouchPoint Solution™ in late 2015 with the mission of bringing relief to the millions of people who suffer from stress and anxiety. Over the last decade, Dr. Serin's work in therapy and neuroscience led to the discovery that a component of successful PTSD treatment could be used as a stand-alone product for a range of individuals whose stress and intensities hamper performance, relaxation, sleep, and their ability to cope with sensory stimuli. Dr. Serin recognized that this method was too powerful to be confined to doctors' offices and partnered with long-time friend and entrepreneur Vicki Mayo to bring TouchPoints™ to the world. For more information, please visit https://ilovetouchpoint.com.
About TouchPoints™ basic
TouchPoints™ basic are non-invasive, wearable devices that use patent-pending neuroscience technology to relieve stress and anxiety, improve focus, reduce cravings, improve performance, manage anger, reduce sensory overload and better enable sleep. They come in a set to be worn on both the right and left side of the body, on wrists or in discrete locations such as in the hands, socks or pockets. TouchPoints™ basic are available to purchase online at https://ilovetouchpoint.com for $135.
TouchPoints™ are a neuroscientific lifestyle device. They are not a substitute for medical treatment nor are they intended to cure any medical condition.