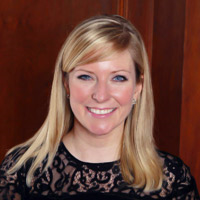 "G Media is investing to ensuring our current fortune 500 clients know they will always get the top quality experience they would expect from a larger agency."
Providence, RI (PRWEB) June 28, 2017
G Media Studios Inc., the New England leader in experiential brand advertising, announced today that Megan Decker will assume the role of President and Chief Operating Officer.  Megan will be responsible for leading all operations and driving continued growth for G Media within North America.
 
Megan is a seasoned marketing executive with a proven track record in implementing corporate strategies to differentiate brands and drive revenue.
 
She was most recently with Catapult Marketing in Westport, CT where she managed the company's largest telecom client, Frontier Communications.  Prior to joining Catapult, Megan was with Omnicom Media Group as Global Director of Marketing and Business Development. There, Megan collaborated with the C-suite to accomplish corporate business objectives and drive the growth of their portfolio.
Before joining OMG, Megan was with Ogilvy & Mather and Publicis BOS Group. There she specialized in brand consulting, delivering expert offerings in positioning strategy, brand development and marketing capabilities.
 
Prior to joining the agency side, Megan worked in marketing partnerships at Starwood Hotels, developing integrated marketing plans for the hotel portfolio through multi-million dollar alliances with brands such as Sony, LiveNation and MasterCard.
 
"The appointment of Megan Decker as President and COO has been part of our strategic growth plan to bring in "big" agency leadership as we continue to expand nationally" said David Paolo, G Media Studios CEO.  "G Media is investing to ensuring our current Fortune 500 clients know they will always recieve the top quality experience they would expect from a larger agency."
 
G Media's key area of expertise lies in Experiential Marketing, but offers up a multitude of other capabilities such as customized CRM platforms, marketing, advertising and public relations services.  Their client base showcases some of the top 50 Fortune 500 companies in the country and over 150 small to mid-tier clients. 
 
"David has built a strong foundation of marquee clients which I intend to expand upon, further building up G Media as the go-to leader in the market. The future looks very bright and I am looking forward to coming on board."  Said Megan Decker, President and COO of G Media Studios. 
 
Clients looking to finding out more about these unique digital marketing solutions can call 401-351-7900 to speak to a G Media creative agency marketing consultant or visit http://www.gmediastudios.com
 
About G Media Studios: 
The company offers a diverse, comprehensive range of marketing solutions spanning Experiential brand advertising/marketing, customer relationship management (CRM), media planning and buying services, public relations and numerous specialty communications services to drive bottom-line results for our clients. G Media partners leverage technology, data analytics, insights, and strategic consulting solutions to drive measurable results and optimize return on marketing investment. It is a partner company with a unique model of alignment dedicated to empowering the most entrepreneurial and innovative talent to drive competitive advantage and business growth for clients. The partnership model fuels the entrepreneurial nature of our agency partners, and provides collaboration and continuous support to ensure that each partner achieves their greatest ambitions.
 
G Media Studios Inc. 
Contact: David Paolo 
Phone: 401-351-7900