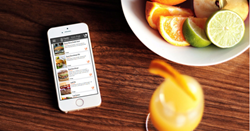 Eat with Resco is built on Resco Consumer Apps for Retail – a ready-made app template with its design, schema & source code available as a starting point that allows to easily create consumer-oriented apps on Resco Mobile CRM's technology. - Radomir Vozar
(PRWEB) June 27, 2017
Resco is one of the global leaders in developing cross-platform mobile solutions for Microsoft Dynamics 365, Dynamics CRM and Salesforce, which are utilized by more than 1,700 enterprise customers around the globe. The company will be a Silver Sponsor at Inspire, exhibiting in the Commons Expo hall at booth #1414.
However, to spice up the conference experience, Resco also invites all visitors to the Fadó Irish Pub nearby the Walter E. Washington Convention Center – to meet and chat with the Resco staff in an informal environment, complete with appetizing meals and refreshing beverages. Attendees who will download "Eat with Resco" from their app store can then use the app to pick meals and drinks (all free of charge) and select the date and time of their meeting with Resco during Microsoft Inspire. Shortly afterwards, they will receive a confirmation e-mail with all the details, which will be available within the app as well.
As we found out ourselves, catching a break outside of the convention center during such a large-scale event it's quite a refreshing experience. Furthermore, Eat with Resco is built on Resco Consumer Apps for Retail – a ready-made app template with its design, schema and source code available as a starting point that allows to easily create consumer-oriented apps on Resco Mobile CRM technology. So at the same time people can book meetings with our team in a unique environment and get hands on with the latest addition to our product lineup, Radomir Vozar, Resco's CEO, explained.
For more details on the "Eat with Resco" application visit our: BLOG
To download the Eat with Resco for iPhone/iPad visit: iTunes
To download Eat with Resco for Android devices visit: Google Play
About Resco Mobile CRM
Resco Mobile CRM is the all-in-one mobile solution that gives users around-the-clock access to CRM data wherever they are. It can be utilized with Microsoft Dynamics CRM, Salesforce, or as part of Resco's standalone CRM solution — Resco Cloud. It offers reliable offline functionality, interactive maps, support of custom entities & many other capabilities that make it the product people love to use.
About Resco
Resco, founded in 1999, is one of the global leaders in developing cross-platform mobile software solutions. The team of Resco professionals utilizes its knowledge by designing products for corporate customers, developers, integrators, end users and today, Resco Mobile CRM is utilized by more than 1700 enterprise customers around the world.
For more information please visit: http://www.resco.net