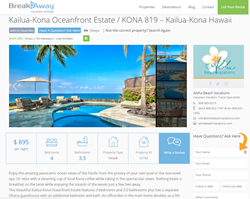 "We're losing our legacy. Many who feel they're being pushed into exiting our industry have been in this business for a decade or more." - Jay William, CEO of BreakAwayVR
Orlando, FL (PRWEB) July 12, 2017
The official launch of Break Away Vacation Rentals, http://www.BreakAwayVR.com, gives control back to struggling vacation rental businesses, and helps uninformed travelers save on inflated booking fees.
Thousands of disgruntled property managers, owners, and travelers have voiced their frustrations with popular vacation rental websites and their newest fee driven policies.
The complaints from owners range from bloated booking fees charged to travelers, unfriendly corporate policies enforced on owners, and most recently, the blocking of critical communication between owners and travelers. The new change makes it so that travelers and owners can no longer communicate freely with each other, ensuring that the booking fee is no way bypassed.
The booking fee offers no additional value to travelers and costs a family an upwards of $400 dollars or more per booking. The "service fee" has come at a very high cost for small businesses too.
"I am in business since 1988 and this greed is overwhelming…this is NOT right!" – Rimma with Sunny Villa Holidays
The changes have had a crippling effect on the lives of thousands of owners and managers across the globe. Many have said they're considering closing their doors because it's become difficult to adapt to artificial market challenges caused by these popular vacation rental listing sites.
"I had planned to "retire" with my business, but I now have half my properties for sale," said a rental owner who wanted to remain anonymous out of concern of how speaking out could have repercussions for her business.
BreakAwayVR.com was developed as a solution to the problems affecting the lives of people who are the heart and soul of the vacation rental business. The new platform rids of the giant middle man, allowing for a much more personal, organic and local rental process that travelers are being deprived of.
BreakAwayVR makes vacations affordable and convenient again. Travelers can book amazing vacation rentals around the globe minus the fees. Vacation rentals in destinations like Orlando, Jamaica, Hawaii, Thailand, and California are available for booking on BreakAwayVR.com. Booking a vacation rental direct saves families and guests up to 12%.
Rental owners and managers who join pay a yearly subscription to run their business the way they need and want to. Owners/managers are free to communicate with guests and utilize features designed to support their business.
Some unique features of BreakAwayVR:
Marketing Campaigns – Personalized campaigns are created for each individual property. Listings are promoted using online marketing strategies that include SEO, social media, paid advertising, press release services, back linking, submissions to directories, and content marketing strategies.
Booking Software - GuestBooked, which is BreakAway's exclusive vacation rental software application, can be used on the BreakAway Vacation Rentals website to process bookings directly to your bank account.
Exclusive Training and Marketing Resources - Professional education on how to run and market a rental business is included in each subscription. Subscriptions include free access to courses, videos, eBooks, and powerful marketing tools.
To learn more about how BreakAwayVR is helping, owners, travelers and managers read their official announcement.
Break Away Vacation Rentals is a 100% self-funded vacation rental website created by Vacation Rental Marketing Expert Jay William under the parent company Villa Marketers, a marketing and web development company working exclusively in the vacation rental industry since 2005.
Jay William is the CEO of Villa Marketers, an author and advocate in the VR industry, and former content marketer for TripAdvisor. Jay opened BreakAwayVR to stand up with owners and managers across the globe to save the legacy of the vacation rental business.