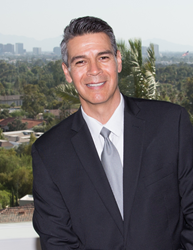 PHOENIX (PRWEB) June 26, 2017
Benjamin Aguilera rejoins Greenberg Traurig, LLP's Phoenix office as a shareholder in the firm's vibrant Corporate & Securities Practice. Aguilera has a broad background in U.S. corporate, M&A, finance, and venture capital matters and brings with him over 25 years of experience. He also has experience in international transactions in Mexico, Central and South America, Spain, and Portugal in corporate, M&A, venture capital, finance, anticorruption protocols, hospitality, resorts, commercial and residential real estate, and mining matters. He has also coordinated litigation, tax, intellectual property, labor, and environmental matters in Mexico and Latin America.
"Greenberg Traurig is a special place where we value individuals and their unique talents and experience. We are delighted that Ben has returned," said Nicole M. Goodwin, managing shareholder of the firm's Phoenix office. "He brings a wealth of knowledge in cross-border transactions. His corporate, mergers and acquisitions, and finance experience will be of great interest to our clients and our expansive offerings throughout the firm will be of value to his practice."
"I am happy to be back alongside former Greenberg Traurig colleagues and new additions around the globe," Aguilera said. "Their reputation in this market and in New York, Mexico City, and beyond, as part of the firm's enviable global platform, will best enable me to serve clients and their ever evolving needs."
Aguilera's international experience includes representing clients in transactions and issues regulated by NAFTA and other treaties and programs between the U.S. and Mexico, and cross-border mergers and acquisitions. These include stock and asset transactions; formation of joint ventures; incorporation of foreign subsidiaries; acquisition, financing, and development of commercial and residential real estate; negotiation of international manufacturing, licensing, and distribution agreements; venture capital investments; set up of manufacturing facilities and prosecution of licenses and authorizations under special import-export programs; and representation of a trust fund by a Mexican state government to support exports by small and medium-sized businesses. Aguilera graduated from college and practiced public accounting in Mexico before he was admitted to practice law in Arizona.
Aguilera rejoins Greenberg Traurig from Aguilera International Counsel, of which he was the founding partner. He was previously a shareholder in the Phoenix office from 2001 to 2007. Born and raised in Mexico, he earned his J.D. from Texas Tech University of Law and his B.A. from the Universidad Technólgica de México. He is also a licensed C.P.A. in Mexico.
About Greenberg Traurig's Phoenix Office
In Arizona, Greenberg Traurig counsels clients on a wide range of critical issues, such as litigation, mergers and acquisitions, dispute resolution, securities, labor and employment, real estate, public finance, bankruptcy, and intellectual property matters.
About Greenberg Traurig, LLP
Greenberg Traurig, LLP (GTLaw) has more than 2,000 attorneys in 38 offices in the United States, Latin America, Europe, Asia and the Middle East and is celebrating its 50th anniversary. One firm worldwide, GTLaw has been recognized for its philanthropic giving, was named the largest firm in the U.S. by Law360 in 2017, and among the Top 20 on the 2016 Am Law Global 100. Web: http://www.gtlaw.com Twitter: @GT_Law.