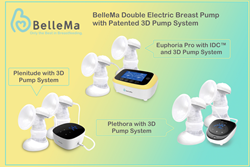 " The misconception of many about breast pumps and its purpose keeps BelleMa at its feet into a constant journey of improving all our breast pump models', says Junbo Chen.
Walnut, CA (PRWEB) June 27, 2017
Mr. Junbo Chen, BelleMa's Founder and CEO announced today in an Executive Meeting that final evaluation and international quality control standards are now completed on 3 more FDA Certified models under the BelleMa brand. These 3 breast pump models will all come with the patented 3DPump System Design, models named as follows: the Plenitude, the Plethora and the Euphoria Pro.
BelleMa will once again make a noise in the market explaining the benefits of the 3D™ Pump System on Expression Kits to many industry breastfeeding specialists." The misconception of many about breast pumps and its purpose keeps BelleMa at its feet into a constant journey of improving all our breast pump models', says Junbo Chen. "Breast Pumps do not suction milk out of the breast but rather it is a device that uses suction to pull the nipple into the tunnel of the flange, then releasing it to create the breastfeeding terminology called 'cycle'", Mr. Chen added. The CEO explained that in drawing breast milk, there is truly nothing more efficient than a suckling baby. BelleMa's Engineers developed the 3D Pump Expression Kit combining all attributes of a baby's suckling motion: the pulling motion, squeezing motion without causing trauma or damage to areolar tissues and the soft massaging feeling of a baby's lips and tongue. The soft breast shields of the 3D Expression Kit are made of liquid silicones which deliver a natural feeding feeling. These cushioned flanges connected to the kit's valve and membrane are calibrated with cycling motion settings that somehow provide a massaging sensation as if the baby's lips are actually pressing on the breasts. Part of the motion settings is that of the baby's palate and tongue squeezing and pulling to stimulate the mother's milk ejection reflex (MER), thus establishing the mother's milk supply.
The BelleMa Plethora will be launched as the Entry Level Model. It will have a small housing which is very portable and can be powered either by AC or DC using 4 AA batteries. This will be seen in the market with an MSRP of $ 79.99, affordable enough for both consumers and healthcare DMEs. The Plenitude, on the other hand will be the step-up model from the Plethora with an MSRP of $99.99 and will have a built-in rechargeable battery. The Euphoria Pro is expected to get more popularity in the HME channels because of its portability and affordability considering this can be a Multi-User Pump. A Multi User Pump is one that is of a Closed System Design, safe and powerful enough to be used multiple times a day by more than one user, provided Collection Kits are not shared. This Model is projected to have an MSRP of $199.99 and is recommended for mothers who respond better to the most suction. All these new models will have the ease of the Touch Screen Technology which is very convenient for breastfeeding mothers. The BelleMa Sales Team are all excited on the actual launching of these models with 3D™ Expression Kits. It will be less parts to assemble and less parts to clean for mothers. The launch of these 3 models into the market will bring the BelleMa breast pump selection to a total of 7 FDA Certified pumps.
About Bellema:
BelleMa Co., located in Walnut CA is a subsidiary of a publicly traded manufacturer in China who pioneered the R&D and manufacture of electric breast pumps in 1997. BelleMa's Factory owns several proprietary intellectual rights with 17 national patents in the development of baby products. The passion to enhance a mothers' breastfeeding experience and a desire to educate that nutrition starts from infancy, have driven the Factory to establish operations in North America under BelleMa branded products.