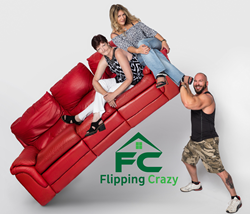 Hamilton, Ontario Canada (PRWEB) June 28, 2017
Break out the hammer and dust off the measuring tape as digital distribution giant Amazon premieres the first of its kind home remodeling series, Flipping Crazy.
Flipping Crazy stars Canadian real estate enthusiasts Pamela Gorrie, Sandi Ryan, and Steve Kowalyshyn. The dynamic trio of entrepreneurs have revolutionized the monotonous television concepts of "do it yourself" home improvement by combining the visual allure of home renovations, the high-octane action of a competitive ensemble, and the educational grandeur of a worldwide exclusive.
This first season, seven-episode series greenlit in early June, will let audiences from around the world indulge in the day to day adventures of Flipping Crazy's eclectic cast. A treasure trove of trade secrets, renovation tips, and general remodel information awaits while viewers are privy to firsthand interactions between designers, contractors, architects, and subs who are all working in concert towards building and revitalizing multiple projects. In addition to the entertaining premise of the show, but relatively new to the digital platform, each episode contains interactive popup displays of trivia or features on the products, blueprints, or raw materials used throughout the show.
Filming is set to begin mid-July in Hamilton, a city in the Canadian province of Ontario. Hometown of Flipping Crazy's co-creator Pamela Gorrie and costar Steve Kowalyshyn. The City of Hamilton is no stranger to film production, boasting numerous TV and film projects since 2001. Combined with Canada's incredible tax incentive through the CPTC program, the principal stars of Flipping Crazy are thrilled to bring the production home.
This is the second collaboration with Amazon and the Producers of Flipping Crazy, marking a positive upward trend for future content distribution via alternative outlets than network television or cable channels. The digital platform is clearly dominating how people access news, entertainment, and music. Netflix, Amazon, YouTube, and Hulu have successfully navigated the harsh distribution environment once held by media conglomerates like ABC, NBC, and CBS. These new digital distribution hubs have opened the door for many filmmakers to produce original content without the creative restraints often implemented by overly dominating television executives. The rise of Amazon Studios is the perfect example of David becoming Goliath.
Stay connected @FlippingCrazyTV.