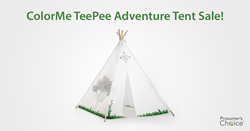 "My hope is that offering the ColorMe TeePee Adventure Tent at a deep discount will entice parents to facilitate creative play this summer." - Perry Solomon, Prosumer's Choice President and Founder
Los Angeles, CA (PRWEB) June 28, 2017
Prosumer's Choice brand releases the ColorMe TeePee Adventure Tent with outline coloring pattern for kids ages three and up. To celebrate its arrival, from June 28th, 2017 through July 12th, 2017, customers can sign up at http://www.prosumerschoice.com/promotions.html to receive a 43% off promo code to get the ColorMe TeePee Adventure Tent for only $45.99. Customers may purchase the ColorMe TeePee with the discount promo code on the Prosumer's Choice website or Amazon.com. The $45.99 price tag invites shoppers who act quickly to save substantially off the $84.99 MSRP. The 100% white cotton canvas indoor or backyard TeePee Tent for children represents a new product line for the e-commerce brand known for its eco-friendly lifestyle solutions.
The ColorMe TeePee Adventure Tent encourages kids to get creative while developing fine motor skills. The washable canvas tent features a tree outline, an eagle perched atop a mountain range, compass, and grass colored base for kids to decorate using any child-safe products, such as markers, pens, watercolors, and more (not included). There's also plenty of blank space on the canvas TeePee to encourage kids to add their own drawings, which fosters artistic play and helps develop muscle control as well as memory. Being able to decorate the ColorMe TeePee Adventure Tent by themselves instills a sense of ownership as kids make a place to call their own.
"I'm thrilled to expand our product offerings into the Toys & Games sector," says Perry Solomon, Prosumer's Choice President and Founder. "Being able to inspire kids to learn and grow in healthy ways is especially important to me as a father and grandfather. My hope is that offering The ColorMe TeePee Adventure Tent at a deep discount will entice parents to facilitate creative play this summer."
Parents will love that the ColorMe TeePee Adventure Tent gives their kids a chance to unplug from digital devices and use their imaginations in a hands-on manner. The collapsible tent design folds up to a compact size for easy transport in the included canvas carrying bag so it's perfect to pack for playdates, visits to Grandma's house, or trips to the park.
"As far as safety testing is concerned, we've gone above and beyond to ensure that the ColorMe TeePee Adventure Tent meets all applicable chemical and safety standards," notes Solomon. "This product underwent extensive independent 3rd party testing and conforms to US Consumer Product Safety Regulations."
To learn more about the ColorMe TeePee Adventure Tent or other Prosumer's Choice products, please visit http://www.prosumerschoice.com/colorme-teepee-adventure-play-tent-250498.html or contact marketing (AT) prosumerschoice (DOT) com.
About Prosumer's Choice
California-based and family-owned Prosumer's Choice designs, develops, and builds unique and convenient products for the home, outdoors, office, auto, and travel. Embracing eco-friendly and socially responsible initiatives is a key component of Prosumer's Choice business ethics, and Prosumer's Choice educates its supply-chain on the benefits of the Business Social Compliance Initiative (BSCI) Monitoring System. A significant amount of Prosumer's Choice's line of bamboo products are certified by the Forest Stewardship Council® (FSC®) that the material comes from responsibly-managed forests. For more information, please visit http://www.prosumerschoice.com or contact us toll free at 866-888-8776.