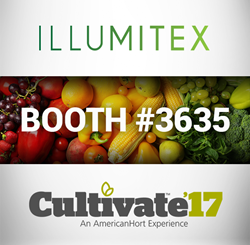 Austin, TX (PRWEB) June 27, 2017
John Spencer is the new Senior Vice President of Sales and Marketing at Illumitex Inc., a leading manufacturer of horticultural LED fixtures. He comes to the company with executive experience from Cree, Hubbell and GE. Spencer has been leading the LED revolution at these world-class companies. His extensive commercial background will put Illumitex in the ideal position to deliver the highest quality products to the widest range of horticultural customers.
Illumitex has also hired Joey Viegas as Horticultural Sales Specialist for western North America. Patrick Stanley has been hired as Horticultural Sales Specialist for eastern North America. Joel Enns is the company's new National Sales Manager for Canada, operating out of Leamington, Canada.
"We are not just a lighting company. We are a digital horticultural LED lighting company," Spencer said. "We now have an amazing staff of horticulturists to specifically support our customers' cultivation efforts. This team of horticulturalists is tasked with ensuring successful grows occur after the sales of our lighting systems. Whether it's a greenhouse, vertical farm or cannabis grow, this team can help growers achieve better yields, better quality and more efficient operation."
Illumitex will be participating in this year's Cultivate'17 conference and trade show, July 15-18, in Columbus, Ohio. The company, which will be exhibiting at Booth No. 3635, will be showing several of its LED products designed for the horticultural industry. Company representatives, including three of its new hires, will be ready to talk to show attendees about its LED products and its new digital horticulture system.
"We have started deploying digital solutions with some of the growers," Spencer said. "Our digital system is designed to monitor plant stress, insect and disease issues as well as growth and production rates.
"Our high resolution digital images of the whole grow provide comprehensive coverage at resolutions that have never been available before. Our algorithms use the image data to give growers meaningful information to react faster to make impactful changes that lower costs and improve grow outcomes. During the show we are looking to talk with growers to find out what issues they're having and how digital horticulture can help solve them."
For more: Illumitex Inc., (512) 279-5020; info(at)illumitex(dot)com; http://illumitex.com.