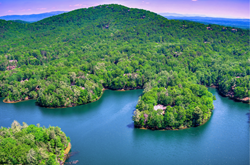 Summer Events in the Blue Ridge Mountains
Atlanta, Georgia (PRWEB) June 27, 2017
This summer is the perfect time to pack up the family and explore how living in one of the most affordable mountain towns in Northern Georgia can add generation joy to a family according to Real Estate Scorecard. Coined "The Enchanted Land" once inhabited by Paleo Indians over 15,000 years ago, the award winning mountain community today represents the ultimate spot to live in the mountains in the suburbs of Atlanta.
Big Canoe spreads across seven mountains encompassing over 8.000 acres of preserved lush greenery. Residents enjoy three sparkling fresh water lakes which provide a tranquil backdrop for owning a summer retreat or year round home. Or one can find high elevation mountaintop homes or homes on the golf course. Recreational activities are endless which include twenty miles of hiking trails to cascading waterfalls, freshwater fishing, golf on any of three nine hole championship golf courses or swim indoors or outdoors at this picturesque and serene environment.
Here's what's coming up at Big Canoe:
The Big Canoe Kids' Fish Camp, which is highly popular, will run from 8:00 a.m. to 1:00 p.m. on July 19-21, and July 26-28. Attendees will learn the basics of angling in this 3 day camp from expert fishermen. The cost is $125 and includes a new rod and real, bait and expert fishing tips. Lake fishing will be from a pontoon boat manned with a seasoned captain and first mate. This event fills up quickly, so make plans now to attend this exhilarating outdoor adventure.
Junior Tennis Camp began the week of May 29th and will run throughout the summer. Here fundamentals, technical training, drills and skills will be the focus. Match play will test the young players and keep the camp fun for all levels and ages. Starting at 10am and ending at 3pm each day, the camp costs only $250 per week and is open to children ages 8+. There is also a class for (Pee Wees) from 9am to 10am for younger kids for only $50 per week. Big Canoe Director of Tennis, Matt Motil, who is USPTA certified, organizes and coaches the students. Big Canoe is named Real Estate Scorecard's 2017 Bliss Award for Best Tennis Community of the Year.
Summer Junior Golf Camp is a great way for golfers of all levels to learn the techniques and etiquette of this challenging game from the admirable PGA and LPGA pros at Big Canoe. There will be 3 camps offered this summer teaching the skills of driving, pitching, chipping, bunker and approach. Putting will be the focus of the first 2.5 hours of the day. Course play will teach golfers course etiquette and pace of play. The beauty of these mountain courses is unmatched and provides the perfect playground for this outdoor activity. Lunch is provided and included in the cost of $225 per camper. The third day of camp will feature a skills competition to showcase attendees' knowledge of the game. The final day, a parent/child 9-hole tournament is held followed by an award luncheon. This is a great way for juniors to learn the game of golf while enjoying the great outdoors at Big Canoe. This activity fills quickly with only 36 spots in each camp. Book a Discovery Package weekend now to experience this incredible resort location. Camp Dates still available (8:00 a.m. to 12:00 each day) are July 18th – 21st.
Another fun family activity is watching movies under the twinkling stars in the open mountain ranges that adorn Big Canoe. The Summer Outdoor Movies series offers weekly movies every Wednesday during June and July at 9:00pm (weather permitting) for guests and residents. This outdoor event takes place at the Playfield Park and folks attending are invited to bring chairs, blankets, goodies and beverages. There are also yummy concessions available for moviegoers.
Here are the films that will be featured this summer (please note that dates are subject to change):
Wednesday, July 5 - Moana
Wednesday, July 12 - A Dog's Purpose
Wednesday, July 19 - Madagascar 3
Wednesday, July 26 – The Lego Batman Movie
Wednesday, August 2 - Hidden Figures
On August 19, Big Canoe will host its much-anticipated Second Annual Cardboard Boat Race. Participants must build their theme-based crafts out of cardboard and it must be able to actually float racing 200 meters while hosting 2 to 6 sailors on board to win this stimulating competition. Creativity is the key in designing the boat's theme and challenges residents to beat last year's winning team, "SS Hope It Floats". Seven teams competed last year cheered on by friends and neighbors providing great entertainment for residents and guests. The categories will be segmented into families, adults and youth. The event will take place on the beach behind Canoe Lodge and the racing course will be on the pristine Lake Sconti. In addition to the speed competition, awards will also be given for; Most Creative Boat, Best Sunken Ship, People's Choice and the Spirit award. Concessions and frivolity will be provided by the Canoe Cubs who will lighten up the event. Don't miss this one-of-a –kind festivity. There is never a dull moment living at Big Canoe.
Book a trip now with the affordable weekend package offering the following:
ACCESS BIG CANOE'S EXCLUSIVE DISCOVERY PACKAGE:
Just 1 hour north of Atlanta, Big Canoe offers a private residential community experience. For only $375 per couple, the Big Canoe Discovery Package includes:
3-day, 2-night stay in a luxury mountain home*
18 hole round of golf per couple, or 2-hour tennis/pickleball reservation*
$50 voucher toward dining at stunning Sconti Clubhouse
2-hour pontoon boat cruise on beautiful Lake Petit*
Private tour of our diverse and thriving Community
Exclusive gifts, surprises and much more
*Accommodations and amenity usage subject to availability and/or season.
BIG CANOE AMENITIES
24 Hour Manned Gated Entrance
27 Hole Championship Mountain Golf Courses designed by Joe Lee
9 Hole Creek Course overlooking Lake Sconti
9 Hole Cherokee Course with dramatic elevations
9 Hole Choctaw Course accented by waterfalls and rushing creeks
Lodge-style Golf Clubhouse overlooking Lake Sconti
16,000 Square Foot Fitness Center
Indoor Heated Saline Swimming Pool
Resort-style Outdoor Swimming Pool bordering the Beach
Wildcat Recreation Center with Outdoor Swimming Pool and Kids Pool
Ballfields - Soccer, Baseball, Basketball and Bocce Ball
Ten Lighted Tennis Courts
22 Miles of Paved and Gravel Trails for fantastic hiking in Georgia
Three Private Lakes stocked with Trout, Bass, Bream and Crappie
Community Boat Docks and Marina Store
The Villages Market
Three Dog Parks
Getting to Big Canoe real estate development is easy. Located only one hour north of Atlanta in the captivating Blue Ridge Mountains of Dahlonega, major highways provide easy access to this exquisite mountain resort and community development.
Call Big Canoe directly at 866.244.2266 to check on Discovery Package availability and to schedule a tour.
About Real Estate Scorecard:
Real Estate Scorecard writes unbiased real estate reviews providing in-depth information about popular gated communities in Florida, Georgia, the Carolinas and Tennessee and Central America, all in an effort to help people discover where to retire in the South.
Website: http://realestatescorecard.com