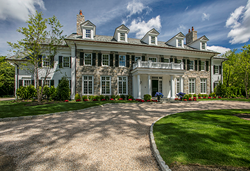 Scarsdale, N.Y. (PRWEB) June 27, 2017
Healthy Home Builders (HHB), a Westchester County, N.Y. based construction company, builds houses that far surpass widely accepted standards for environmentally sustainable construction including LEED certification to go "way beyond green," according to the company—an ideal exemplified in a luxurious new construction property now listed for sale with Julia B. Fee Sotheby's International Realty.
HHB's core building principles encompass a focus on air, water, non-toxic building materials and cost-saving energy efficiencies. Homes are built using tested, safe and state-of-the-art Zero VOC (volatile organic compounds) materials with no off-gassing, which establishes a healthy indoor environment for occupants. ERV (energy recovery ventilation) systems both ventilate the homes and ensure minimal loss of heat and energy, while whole house carbon water filtration systems make the water the cleanest and purist available from the source. The designs take advantage of natural light and space, and incorporate LED lighting, smart-home features and indigenous, responsible landscaping.
"We build what we believe are the most elegant, refined and healthy homes imaginable for today's families," said Peter Donovan, HHB Co-Founder and General Manager.
The company notes that homes or buildings can achieve different levels of LEED certification according to criteria established by the US Green Building Council (USGBC), including water efficiency, energy and atmosphere, materials and resources, indoor environmental quality and more, with the highest certification being Platinum. Yet HHB's approach is to meet each of these criteria at a bare minimum, and look beyond them in prioritizing the health and wellness of a home's occupants.
"We believe LEED certification is an innovative step in the right direction. However, our off-the-charts methods and beliefs are far ahead of where the industry is at this moment," said Jan Flanzer, HHB Co-Founder and Managing Director. "The prevention of possible future health issues begins at home. Most houses will be built in the future with an emphasis on health conscious living, but Healthy Home Builders is not willing to simply wait for that day. We've been changing the way homes are built since the company's beginning."
The recently finished Scarsdale residence, a Georgian Colonial in the Murray Hill estate area, includes the environmental features for which HHB is known. The 9,022 square-foot interior also highlights stunning architectural details with bright, expansive rooms, high ceilings, white oak wood flooring, four fireplaces and solid wood custom cabinetry. A covered exterior veranda offers a wonderful area for entertaining, with wall-mounted flat screen TV and views of the exquisitely landscaped grounds. The residence has seven sizeable bedrooms and six full and two half baths, including a master suite with fireplace, spa-inspired bath with separate water closets, and large his and hers custom closets. The home is listed with Scarsdale agent Dawn Knief for $6,950,000. For more information, visit Julia B. Fee Sotheby's International Realty website here.
"Healthy Home Builders' dedication to non-toxic materials, clean technologies, air and water quality, and health and wellness make this property the ultimate green home," said Knief. "The home also enjoys a coveted location close to the village of Scarsdale, with access to nationally ranked schools, shops, restaurants and easy transportation to New York City, which is only a 30-minute train ride away."
The firm recently placed a second home constructed by HHB on the market at 23 Shawnee Road, a 5,537 square-foot residence with solar technology scheduled to be completed this summer. The property is also listed with Knief for $4,688,000. More information is available on the firm's website here.
About William Pitt and Julia B. Fee Sotheby's International Realty
Founded in 1949, William Pitt and Julia B. Fee Sotheby's International Realty manages a $3.9-billion portfolio with more than 1,000 sales associates in 26 brokerages spanning Connecticut, Massachusetts, and Westchester County, New York. William Pitt and Julia B. Fee Sotheby's International Realty is the largest Sotheby's International Realty(R) affiliate globally and the 31st-largest real estate company by sales volume in the United States. A full-service real estate firm headquartered in Stamford, Connecticut, William Pitt and Julia B. Fee Sotheby's International Realty provides ancillary services including commercial services through its affiliation with Building and Land Technology, a second-generation development company based in Stamford, Connecticut; William Pitt Insurance Services; and an award-winning global relocation division. For more information, visit the website at williampitt.com.
Sotheby's International Realty's worldwide network includes more than 20,000 sales associates located in approximately 880 offices throughout 70 countries and territories.