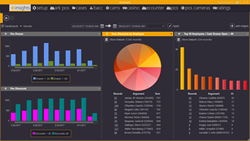 "We really wanted to listen to customer feedback and improve user experience," commented Travis Whidden, CTO of eConnect, "Gaming analytics and data collection is in its infancy, and we'd like to be a pioneer in this emerging industry."
Las Vegas, NV (PRWEB) June 27, 2017
eConnect, Inc., a Las Vegas-based software company which provides hospitality and gaming companies with a platform for actionable information, reinforced by video, has just released its newest version of their software called eC7.  
 
eC7 is Version 7 of eConnect software that features a new, intuitive front-end dashboard as well as additional advanced analytics for casino table games.
 
eConnect's new dashboard is not only a good-looking User Interface, it is a hub for multiple data sources.  Users will be glad to see that the new dashboard is customizable and allows them to view all data in one place.  This provides the environment to create compelling analyses of the hospitality operation.  For example, by combining line counter data from eConnect's eCounter application with POS information, restaurant operators and F&B departments can ensure their stores are optimally staffed.
"We really wanted to listen to customer feedback and improve user experience," commented Travis Whidden, CTO of eConnect, "Gaming analytics and data collection is in its infancy, and we'd like to be a pioneer in this emerging industry."
Casino users will see new data filters such as Top Players and Table Game Statistics. Top Players allows users to see which players are spending the most on the floor at a particular time and where they are on the casino floor. Operators can personally comp players while they are on the property and build customer loyalty. Table Game Statistics allows operators to compare data for particular tables during selected periods of time.
About eConnect
eConnect™ is a cutting-edge technology company that helps improve business performance through data and video intelligence. The company seamlessly integrates digital video surveillance with transactional data from point-of-sale (POS), casino systems, people counting and other data sources to quickly and directly improve profitability, efficiency and the guest experience. eConnect offers measurable ROI within months of system deployment. The software tools are world-renowned for their ability to discover previously unknown problems, thereby reducing eliminating sources of loss and correcting operational problems. For more information visit http://www.econnectglobal.com