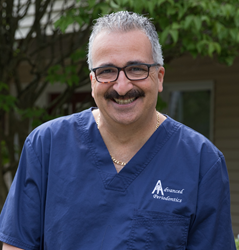 Monroe, CT (PRWEB) June 27, 2017
Dr. Richard Amato, a respected periodontist in Monroe, CT, is pleased to announce the recent renovation of his practice, Advanced Periodontics and Dental Implant Center of Connecticut. As part of the renovation, the cutting-edge practice added two new treatment rooms and increased the administrative and waiting areas. The renovations are intended to improve patient comfort while making it possible for Dr. Amato to provide even more patients with dental implants and cutting-edge periodontal treatments.
As a leading periodontist in Monroe, CT, Dr. Amato is proud to offer patients a modern, newly renovated practice. Patients will now be more comfortable as they wait for their upcoming appointments in the expanded waiting area, and they will have more room to check in, arrange financing and make appointments in the larger reception area. With the addition of two new treatment rooms that feature state-of-the-art technology, Dr. Amato's practice can now accommodate more patients for leading care, including the minimally invasive Chao Pinhole® Surgical Technique, laser gum disease treatment with the LANAP® protocol, and permanent dental implants for missing teeth.
Dr. Amato is committed to providing patients with reliable periodontal care, and he utilizes leading technology whenever possible to improve patient comfort and achieve consistent treatment results. In addition to laser-based gum disease treatment technology, he also utilizes i-CAT® Cone Beam CT imaging systems to generate clear 3D images that allow him to accurately visualize anatomy before treatment planning. This technology is highly valued for its ability to assist periodontal professionals in accurately placing dental implants for long-term treatment success.
Dr. Amato encourages patients who need dental implants and other leading services to visit his practice. To schedule a consultation with the experienced periodontist serving Monroe, CT and surrounding areas including Newton, Bethel, Shelton, Brookfield and Danbury, patients are invited to call Dr. Amato's practice at 203-712-0917 or visit his website at http://www.connecticutperiodontist.com.
About the Doctor
Dr. Richard Amato is a leading periodontist and dental implant specialist who provides personalized dental care using the most advanced technology for patients at Advanced Periodontics and Dental Implant Center of Connecticut LLC in Monroe, Connecticut. He has placed thousands of dental implants since 1989. Dr. Amato earned a DDS degree from Stony Brook University. He then completed a full-time multi-year specialty residency and received his Certificate of Proficiency in Periodontics from Eastman Dental Center at the University of Rochester. He belongs to the one percent of dentists in the USA currently providing the first FDA-cleared laser procedure for gum disease treatment. Dr. Amato is the first and most experienced provider of LANAP® therapy in Fairfield County, Connecticut as well as the first Periodontist to provide the Pinhole® Surgical Technique in CT. To learn more about Dr. Amato and his dental services, visit his website at http://www.connecticutperiodontist.com and call 203-712-0917.