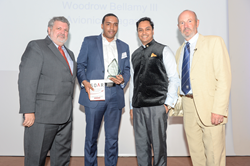 ROCKVILLE, MD (PRWEB) June 27, 2017
Woodrow Bellamy III, Editor for Avionics Magazine was awarded the 'Bill Gunston Technology Writer of the Year Award' at the Aerospace Media Dinner and Awards. The event was held on June 18, 2017 on the eve of the Paris Air Show, and celebrated excellence in aerospace journalism and publishing throughout the year.
Throughout the year, Bellamy has provided insights and detailed analysis on a range of topics including innovations on the evolution of avionics technologies, the 'connected aircraft', NextGen and SESAR, global air traffic management modernization, and more.
To view the latest issue of Avionics Magazine, click here.
To view all of his work, visit http://www.aviationtoday.com.
About Avionics:
Avionics is the leading source for global aviation technology intelligence, covering the latest developments with the connected aircraft, NextGen, avionics innovation and global air traffic management modernization. More than a magazine, this is the platform for in-depth analysis on the global aircraft electronics market, used by top avionics executives, engineers, pilots and professionals throughout the value chain.