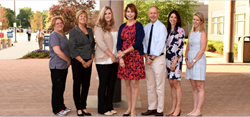 "Through a visual representation of the phone menu on a smartphone and computer screen this platform offers patients an intuitive and convenient visual interaction..."
Burlington, MA (PRWEB) June 27, 2017
The Zappix app, which is fully HIPAA compliant, provides patients of Lahey's Center for Medical Weight Loss who call from a smartphone with a visual call experience when scheduling an appointment, getting additional information, or speaking with a clinic specialist.
 
"By offering this app to our patients we take patient engagement to the next level and provide an improved patient experience," said Amanda Powell, MD Director of Medical Weight Loss at Lahey Hospital & Medical Center. "Our patients will now have an alternative and convenient way to access the information and services they need to stay on track."
Any contact with the Weight Loss Center made through the mobile app is much shorter than one made via a traditional voice call, is simple to use and offers additional Omni-Channel Support options that are not available during a standard voice call, such as filling in a form or watching a video.
When calling the Center for Medical Weight Loss through the app, patients can utilize the smartphone display to select options from a list displayed on their screen. Patients can access information about the clinic, group sessions and physicians, view schedules, create and reschedule appointments, watch videos about various weight loss procedures, and much more.
"I'm excited to see our new healthcare solution working for the medical weight loss department at Lahey Hospital & Medical Center," said Avner Schneur President and CEO of Zappix. "Through a visual representation of the phone menu on a smartphone and computer screen this platform offers patients an intuitive and convenient visual interaction which simplifies their communication with healthcare providers. Zappix Healthcare Visual IVR empowers hospitals, clinics and any other healthcare providers to improve patient experience with a powerful visual self-service IVR and actionable analytics." 
 
About Lahey Health
 
Lahey Health is an integrated health care system committed to providing the full continuum of health care services close to where patients live and work. The system is comprised of nationally recognized, award-winning hospitals, physicians, behavioral health services, and post-acute programs including home health services, skilled nursing and rehabilitation facilities, and senior care resources. Lahey Health includes nearly 1,400 locally based physicians throughout northeastern Massachusetts and southern New Hampshire. Lahey Health includes Lahey Hospital & Medical Center; Beverly Hospital; Addison Gilbert Hospital; Winchester Hospital; Lahey Health Senior Care and Lahey Health Behavioral Services, more than 30 primary care physician practices, and multiple outpatient and satellite specialty care facilities. For more information, visit LaheyHealth.org. To use the app, visit lahey.Zappix.com
 
About Zappix
 
Cloud-based Zappix Visual IVR is a Software as a Service (SaaS) solution for web or cross-platform mobile apps. Offering omnichannel, customer service communications, Zappix enables businesses to rapidly deploy a highly intuitive, extremely interactive smartphone visual IVR app to improve customer care, reduce contact center costs and increase Net Promoter Scores™. 
Fast-growing Zappix currently provides hundreds of contact centers with a streamlined way to empower and better serve customers. Supported organizations include insurance companies, utilities, banks, internet and mobile service providers, retailers, airlines and government agencies. For more information, visit zappix.com.