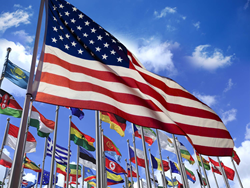 You're graduating not one moment too soon. Humanity needs you, rather desperately, so it's a good thing you've already begun making a difference and are now poised to do even more.
Baltimore, MD (PRWEB) June 27, 2017
International Connections Academy (iNaCA), an accredited, online private school serving students in grades K-12 worldwide, celebrated its 2017 graduating class in a virtual commencement ceremony. Friends, peers, family, teachers and administrators logged in to honor the successes of 131 graduates from 29 states and more than 15 countries, including Australia, Georgia, Netherlands, Saint Kitts & Nevis, Saudi Arabia, and the United States. Keynoted by Danielle Scott-Arruda, five-time Olympian international volleyball player, the ceremony also featured remarks by the president of iNaCA's Board of Trustees, the Class of 2017 valedictorian, and the student council president.
Mickey Revenaugh, president of iNaCA's Board of Trustees, addressed the Class of 2017: "You're graduating not one moment too soon. Humanity needs you, rather desperately, so it's a good thing you've already begun making a difference and are now poised to do even more."
Many traditions of high school graduation were featured during the virtual commencement ceremony, including the 'presentation' of diplomas, turning of the tassels and recognition of each senior. Among the class of 2017 were Jenna Oursler-Cherins, a student from New Jersey who competes in equestrian activities five days a week and will be attending the University of California, Berkeley in the fall; Tennis player Sean Sculley, who accepted a tennis scholarship from Duke University and plans to major in Business; and Zachary Ruscoe who will be attending Liberty University in the fall.
"Each of us started high school in a different place, but one trait we all shared is that each of us did what we could to succeed in our school: iNaCA," said valedictorian Tamim Samman, a Florida-based tennis player. "Though we struggled at times, by staying determined and believing in ourselves, we made it to where we are today and we realize that we have the potential to do so much more."
The International Connections Academy Class of 2017 earned many accolades, including:

16 percent of graduates earned a GPA of 4.0 or above
The Class of 2017 earned more than $4.1 million in scholarships
65 percent of graduates will continue their education immediately at four-year colleges and universities or community colleges
Students have been accepted into colleges and universities around the world, including Duke University, Northwestern State University, Pennsylvania State University, United States Military Academy West Point, University of Sydney, and many more
Approximately 17 percent of graduates will pursue performing arts or athletic careers, 13 percent will enter the workforce, three percent will attend vocational schools, and one percent will enter the military
One graduate earned a diploma and associate's degree from American Public University, and two graduates will earn their associate's degrees by fall 2017 through iNaCA's College Acceleration Program
24 legacy graduates attended iNaCA for their entire high school career
"From academic excellence to pursuing extracurricular activities, the accomplishments of our graduating seniors have stood out in numerous ways," said Principal Hannah Rinehart. "We've seen their dedication to collaboration, excellence and lifelong learning first-hand, and wish the class of 2017 continued success as they pursue their post-secondary passions."
International Connections Academy takes a personalized approach to learning with a high-quality U.S. curriculum, state-of-the-art technology, certified teachers and a secure easy-to-use online learning system. iNaCA students may tailor their schedules to accommodate exam preparation and applications, and take advantage of innovative electives and programs like Career Technical Education offerings such as Introduction to Law and Java Programming, world language and AP courses.
Danielle Scott-Arruda, five-time Olympian, encouraged the graduates to run their race, no matter what they pursue after high school, and to "keep in mind your why—believe in yourself."
iNaCA currently serves more than 900 students across the globe who learn from home or anywhere there is an Internet connection. Certified teachers and supportive counselors provide one-on-one attention and guidance through the college application process, leading to acceptances at many exceptional schools. Enrollment is currently open for online summer school and the 2017-2018 school year. Interested families across the globe can learn more by attending a virtual information session.
About International Connections Academy
International Connections Academy (iNaCA) is an accredited, online private school serving students in grades K–12 throughout the United States and abroad. Recognizing individualized instruction as the key to student academic and personal success, iNaCA's highly trained, certified teachers offer instruction tailored to each student's strengths and challenges using an award-winning computer-based curriculum, real-time instruction, and time-tested course materials from leading publishers. In 2016, iNaCA served students in 49 countries including the U.S. Our parent company, Connections Education, was founded in 2001 by educators and innovators who recognized the power of online learning to transform K–12 education. Connections Education is part of the global learning company Pearson. For more information, visit http://www.InternationalConnectionsAcademy.com.