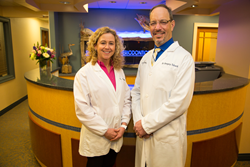 New London, CT (PRWEB) June 27, 2017
Drs. Gregory Toback and Marianne Urbanski lectured at the Alice P. Fabrykiewicz Scholarship Foundation Fundraiser hygiene symposium in Mystic, CT. Covering the process and maintenance strategies of gum grafting and dental implant treatment, Drs. Toback and Urbanski offered their experience in these popular periodontal procedures. Drs. Toback and Urbanski practice as experienced periodontists in New London, CT and Westerly, RI at their practice, Shoreline Periodontics.
Offered by the Connecticut Dental Hygienists' Association, the Alice P. Fabrykiewicz scholarship provides a monetary award to select dental hygiene students. Each student is required to submit an application and essay on how they were inspired to pursue a career in dental hygiene as well as their goals for the future. The $1,900 raised at this event will go directly towards this valuable scholarship fund.
This event served as not only a fundraiser but also a hygiene symposium with guest speakers. Dr. Toback, a board-certified periodontist, and Dr. Urbanski, a skilled periodontal specialist, discussed the latest effective strategies for hygienists to maintain the health of patients' dental implants. They also focused on the process of gum grafting procedures as well as proper maintenance techniques for long-lasting success.
Receding gums can frequently present symptoms such as loose or sensitive teeth and can eventually lead to tooth loss if left untreated. Gum grafting treatment offers a solution by replacing receded gum tissue and restoring a healthy, aesthetically attractive gum line. Patients with missing teeth as a result of untreated gum recession or any other oral health stressor, frequently choose dental implants as a long-term tooth replacement solution. Implant treatment restores complete oral function with a permanent replacement, inspires healthy jawbone growth and completes a natural-looking smile.
To learn more about Drs. Toback and Urbanski, respected periodontists in New London, CT and Westerly, RI, visit their practice website at http://www.shorelineperio.com. To schedule an appointment to learn more about dental implants or gum grafting solutions, call 860-443-2428 for their New London, CT office, or 401-596-0000 for the Westerly, RI location.
About the Practice
Shoreline Periodontics is a periodontal practice offering personalized dental care for patients since 1998 and is located in New London, CT and Westerly, RI. Leading board-certified periodontist, Dr. Gregory A. Toback, received his B.A. from St. John's University and his Doctorate of Dental Medicine from the University of Connecticut. He also received advanced training in periodontics and dental implants at the University of Texas Health Science Center in San Antonio. Dr. Toback focuses on minimally invasive surgeries, offering the LANAP® protocol and belongs to a small group of dental professionals currently providing the Chao Pinhole Surgical Technique™ for treatment of gum recession. Dr. Marianne Urbanski has been voted one of Connecticut's top dentists for more than seven years by Connecticut Magazine. Dr. Urbanski graduated cum laude from the College of Holy Cross in Worcester, Massachusetts where she earned a Bachelors' degree in Biology. She also received her Doctor of Dental Medicine degree and her Masters' of Dental Science degree from the University of Connecticut Dental School. Dr. Urbanski prides herself on offering caring, professional care to each patient. To learn more about Shoreline Periodontics and their dental services visit their website at http://www.shorelineperio.com or call 860-443-2428 for the New London, CT location, or 401-596-0000 for the Westerly, RI office.