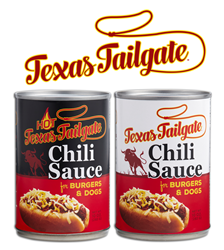 "Once the product hit the shelf, positive consumer response was immediate and many grocery shelves were depleted." said Ron Sonntag, CEO, Boone Brands.
Sanford, NC (PRWEB) June 26, 2017
Texas Tailgate® Chili Sauce Available In Grocery Stores From New York to Florida
Ron Sonntag, CEO of Boone Brands, located in Sanford, NC, announced the well-received and successful introduction of a new line of products – Texas Tailgate® Chili Sauce. Boone Brands developed the Texas Tailgate® Brand of Chili Sauces in 2016 to fill a recent void in Chili Sauce product category on grocery shelves that occurred when a well-known food manufacturer discontinued their Chili Sauce product.
Sonntag explained, "We were very pleased with the initial launch of the Texas Tailgate® Chili Sauce and received many compliments on the full flavor profile of the product. Once the product hit the shelf, positive consumer response was immediate and many grocery shelves were depleted. We have exceeded our expectations for sales and now will be on track to sell over 2 million units in the first year." Eight hundred Food City and Food Lion stores in North Carolina were the first retailers to distribute the new Texas Tailgate® Chili Sauce. Within 3 weeks of initial distribution Texas Tailgate® was selling over 40 cans per store per week and consumer demand was surpassing shelf inventory. By the end of the first 6 months, Texas Tailgate® was ranked #1 in the Chili Sauce category.
Texas Tailgate® Chili Sauce is available in Mild or Hot varieties, both are vegan, contain no monosodium glutamate (MSG) and are Gluten Free. Texas Tailgate® Chili Sauce is used as a topping for hot dogs and hamburgers, to create familiar and flavorful "Coney Island Hot Dogs", "Carolina Chili and Slaw Dogs", "Chili Cheese Burgers" or "Sloppy Joes". The Chili Sauces are also an integral ingredient in adding robust flavor and vegan appeal in recipes for Tacos, Mexican-style Layered Dips and Chili Cheese Fries. Texas Tailgate® Chili Sauce is becoming a popular staple to keep in your cupboard as a quick-fix flavorful solution for family meals or entertaining dishes. Recipe ideas for Texas Tailgate® Chili Sauce are available on Boone Brands' website.
The flavor and texture of Texas Tailgate® Chili Sauce is similar to ground beef, so it resembles a more expensive beef chili at a lower price. Since there is no meat in the Texas Tailgate® Chili Sauce it offers a healthy alternative for vegans and consumers who are on a restricted complex saturated fat and cholesterol diet. Texas Tailgate® Chili Sauce is made with natural toasted soybean grits, spices and tomato paste–its hearty beefy flavor is developed from a vegetable oil product.
Texas Tailgate® Chili Sauce is now available at Food Lion, Food City, Wal-Mart, Aldi, Winn Dixie, Lowes Foods, JH Harvey Ingles, Harris Teeter and Bi-Lo in twelve different states: New York; New Jersey; Pennsylvania; Maryland; the District of Columbia; Virginia; West Virginia; North Carolina; South Carolina; Georgia; Alabama and Florida. Sonntag also announced immediate plans to increase distribution in new markets throughout the Southeast and states west of the Mississippi River.
Boone Brands currently owns and manufactures several other well-known, distinctly Southern-inspired brands:

Mrs. Fearnow's® Brunswick Stew
Patterson's® Beef and Pork Barbecue
Patterson's® Beef Chili Sauce
Patterson's® Homestyle Gravy
Patterson's® Chipped Beef Gravy
Beverly® Sausage
Hilton's® Oyster Stew
Roses® Beef Tripe
Roses® Pork Brains
In addition, Boone Brands has initiated plans to expand its' current specialty product line with ongoing new product research and recipe development. "Texas Tailgate® Chili Sauce was developed in response to the market demand for a new Chili Sauce. It is an excellent example of how Boone Brands was able to identify the market opportunity, develop the prototype and label design, present it to our long established contacts at retailers and brokerage houses, and distribute to the marketplace in less than 5 months," stated Sonntag.
About Boone Brands: Boone Brands, located in Sanford, NC has been manufacturing quality food products for over 60 years and is one of the few remaining canned food processing plants in the Southeast. According to Boone Brands CEO Ron Sonntag, "North Carolina is an ideal central location for the production and distribution of our product lines, as they are currently distinctly Southern food products. Boone Brands is committed to safe and quality foods above all, and has recently invested to improve operations. We are also now certified as an SQF Level 2 Food Processor." The 30 full-time employees at the 30,000 square foot, SQF certified plant, manufacture specialty, small batch Southern-inspired canned food products distributed under many well-established brand names. Boone Brands also provides private label Beef Chili, Chili No Beans, and Beef Stew to the grocery industry.
###
For More Information: Contact Ron Sonntag, CEO, Boone Brands, phone: (919) 775-5931 or email: rsonntag(at)boonebrands.com
Visit Boone Brands website at: http://www.boonebrands.com
Facebook: https://www.facebook.com/BooneBrands/