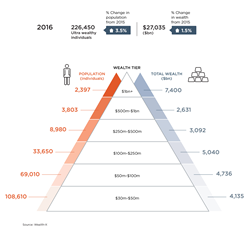 (PRWEB) June 27, 2017
Wealth-X, the leading global wealth information and insight business, today released its annual World Ultra Wealth Report 2017, which analyses the state of the world's ultra high net worth (UHNW) population, or those with $30m or more in net worth. This preeminent report reveals that the world's UHNW population grew by 3.5% in 2016 to 226,450 individuals and their combined wealth also increased by 1.5% to $27trn, rebounding from a steep decline in the previous year.
While this growth in population and wealth reflects a recovery from the fall in 2015, the report also reveals that average individual wealth in this population declined for the first time since 2013, demonstrating that in 2016 UHNW population growth outpaced wealth generation for the ultra-affluent.
Further report findings include:
North America and Asia Lead Global Growth, While Latin America Falters

There were sharp regional fluctuations in dollar-denominated wealth creation, with North America and Asia recording the only significant rises in wealth.
Europe's ultra wealthy population and its total wealth edged slightly lower in 2016, while the population and its fortunes remained largely unchanged in the Middle East.
Latin America and the Caribbean registered a significant fall and Africa also posted a decline. 
Currency movements were a key driver of these trends, with gains in the US, Japan, India and Indonesia, while the UK, Russia, Mexico and Brazil experienced substantial losses.
New York Bolstered its Position as the World's Top UHNW City

The New York metropolitan area's UHNW population grew 9% to 8,350 individuals.
Two other global financial hubs, Hong Kong and Tokyo, maintained their top-three city status.
London remains the city with the largest UHNW population in Europe, but its lead over Paris narrowed sharply.
Though China has the world's third-largest UHNW population, Shanghai ranked 29th globally, emphasising that robust wealth creation is occurring across the country, not only within its top-tier cities. 
Cash is King: UHNW Liquidity Continues to Rise

Total liquid assets (primarily cash) owned by global UHNW individuals stood at $9.6trn in 2016, accounting for the largest share (35.4%) of their holdings followed by private holdings, public holdings such as equities and bonds, and real estate/luxury assets.
This figure has risen steadily in recent years, reflecting a continuing search for yield in an environment of ultra-low interest rates.
UHNW Forecast Shows Continued Growth

Despite heightened geopolitical instability, the global ultra wealthy population is forecast to rise to 299,000 people by 2021, representing an increase of 72,550.
UHNW wealth is also projected to rise to $35.7trn in 2021 which implies an additional $8.7trn of newly created wealth over the next five years.
The trend towards a more balanced global distribution of ultra wealth across different regions will continue.
"At a time of political and economic change, the Wealth-X World Ultra Wealth Report 2017 offers a unique and market-leading insight into this group of individuals, the changing landscape of the ultra wealthy and the key issues that are likely to influence wealth creation in the years ahead," said Maya Imberg, Director, Wealth-X Custom Research.
In addition to revealing a global view of the status and trends of the ultra wealthy, the World Ultra Wealth Report 2017 also examines this population based on their asset holdings, gender, industry focus, wealth source, education and hobbies. From this insight, the report reveals information on the "typical" UHNW individual and compares this profile to other ultra wealthy archetypes including UHNW Millennials, those who are Ivy League educated, the female UHNW population, and those in emerging Asian markets.
Download the full Wealth-X World Ultra Wealth Report 2017
About Wealth-X
The global leader in wealth information and insight, Wealth-X partners with leading prestige brands across the financial services, luxury, not-for-profit and higher-education industries to fuel strategic decision-making in sales, marketing and compliance.  Wealth-X boasts the world's most extensive collection of hand curated dossiers on the ultra wealthy and produces unparalleled high net worth market research.  Founded in 2010, with more than 200 staff across North America, Europe and Asia, Wealth-X works with over 500 clients providing them with unique data, analysis, and counsel to drive business success.