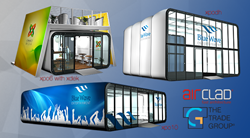 Along with the already-released xPress Line of AirClad products, The Trade Group is happy to announce the launch of three large AirClad products...the XPO, the XPODH, and the xDek.
Dallas, Texas (PRWEB) June 28, 2017
Last month, The Trade Group announced its partnership with architectural structures innovator, AirClad®, to distribute its contemporary, semi-permanent pop-up systems in the US.
Along with the already-released xPress Line of AirClad products, The Trade Group is happy to announce the launch of three large AirClad products...the XPO, the XPODH, and the xDek. Unlike traditional tents and open air spaces, AirClad semi-permanent buildings feature a durable, modern design, climate control options and branding opportunities inside and out.
With the AirClad system, live event pros and experiential marketers now have the option to accommodate guests in a sleek, high-end architectural structure. They can also design and build-out custom interiors based on an organization's unique specifications.
The Trade Group is also excited to be the exclusive distributor of AirClad structures in the U.S., because the award-winning systems have already taken Europe by storm. These semi-permanent structures can be used for one day or several years and are ideal for:

Music and food festivals.
Corporate functions and face-to-face experiences.
Pop-up shops, bars and cafés at events or around town.
Product and brand activations.
Mobile tours.
Semi-permanent retail shops in interior environments.
Mobile offices and showrooms.
So why should you consider an AirClad system for your next live event or pop-up shop?
No. 1. There are a variety of configurations available that can be sized up and down.
Whether you're looking for a large venue to host a private VIP event, a comfortable, branded space to celebrate a product launch or a small pop-up shop to sell sandwiches, we can customize an AirClad structure to meet your needs. Popular models include:
XPO: The XPO single story model is available in two sizes of approximately 20' and 33' wide. Extend the depth in increments of 8' as far as the eye can see, simply by adding on additional AirCells.
XPODH: Need more height? Double it with the XPODH for a 20' tall space sized 33' wide and starting at 16.5' deep. The XPODH is a great option for brands showcasing large products and presentations or that prefer an open feel. Like the XPO, the depth of the XPODH can be extended, simply by attaching additional AirCells.
xDek: Expand space upward with the xDek. This sturdy steel and aluminum freestanding deck was designed so an XPO can fit below it. The xDek provides an upscale, open air space for relaxation, meetings and entertainment.
Need a pod to sleep, work or sell merchandise? We also offer 8'x8' pods for sleeping – the Snoozy; selling merchandise – the Yum Yum; and working (think private office or other quiet space) – the OiO.
Check out this recent post for details: Pamper VIPs with Sleek, Modern Mobile Accommodations at Live Events
No. 2. From the ski slopes to a parking lot to the beach (really), AirClad systems keep guests comfortable in just about any environment.
It all starts with the line's innovative design. Sturdy, aluminum supports were carefully engineered with stability and safety in mind. A double layer of coated fabric membrane with a securely bonded trim fits securely in the aluminum framing channels, which gives AirClad structures rigidity and strength. Most installations require no additional concrete ballasts.
This contemporary design not only looks great, it blocks out noise and the elements. An optional climate control system is available to keep guests warm on the slopes and cool on hot summer days.
AirClad products were designed to adapt to a variety of environments and don't require a special foundation. The structures set up on the ground with supports underneath for stability and leveling. Flooring panels lock in place to help ensure the structures stand solid, with space under the floor to customize your electric grid.
In addition, the front and back entrances feature clear Plexiglas panels and doors, so guests can easily check out what's happening at your venue. What a great way to draw people inside.
No. 3: Branding, customization and interior build-outs to meet any need.
Yes, there's more! The Trade Group can build out the interior to suit most any application – from creating a fully functional restaurant or office to an upscale showroom, VIP venue or concert hall.
We can also customize the skin and add an endless number of amenities to optimize guest comfort and enjoyment. Popular options include:
Customized branding on the AirCell and Plexiglas including printed vinyl, fabric wraps and vinyl decal appliques.
Climate control system for optimum heating and air conditioning.
Extra insulation for advanced soundproofing.
Choice of flooring, such as carpet, rollable vinyl or custom printed flooring to meet branding, comfort and foot traffic needs.
Accent lighting and pendant lighting.
Electrical, sounds systems, A/V equipment, Wi-Fi services and more – everything you and your guests need to power up, engage and stay connected.
To learn more about the AirClad series of contemporary, architectural structures – suitable for outdoor and indoor venues – contact us today!
About The Trade Group 
The Trade Group is a full-service, award-winning provider of products and services for trade shows, corporate events, retail environments and an endless array of face-to-face experiences. The organization helps clients share their unique stories through a comprehensive suite of solutions that includes: exhibit design and fabrication, graphic design and production, exhibit management, digital applications, video production, exhibit accessories, strategic marketing and more.