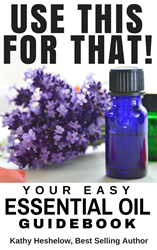 After reading this book, you'll walk away with a good understanding of how to use your essential oils, and how to "Use This For That!"
St. Petersburg, FL (PRWEB) June 29, 2017
The new book, "USE THIS FOR THAT: YOUR EASY ESSENTIAL OIL GUIDEBOOK", is available at a reduced price of 99 cents on Amazon in Kindle ebook today. An audible book will be forthcoming.
If you are interested in essential oils and aromatherapy, but are not quite sure what works for what, or where to start, this book will help you.
"USE THIS FOR THAT: YOUR EASY ESSENTIAL OIL GUIDEBOOK" focuses one chapter on 13 of the most popular and commonly used essential oils today, and applies the book theme to each essential oil.
In another large chapter, she focuses on many common wellness issues, from stress and the immune system to cuts or coughs, and offers many different essential oils for these issues, along with tips and applications.
Essential oils and aromatic plants they come from have been used for centuries around the world for herbal cures and wellness, and are now used in the modern world. This ranges from insomnia and stress to anti-inflammation and anti-bacterial uses. Many clinical tests and studies today bear out what has been known through the ages.
This book joins many others on essential oils and wellness subjects, found on Amazon here.
In addition to frequent writing, Heshelow is founder of Sublime Naturals and Sublime Beauty as well as ZEN BOX.