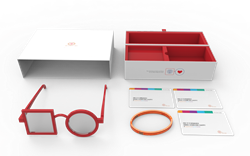 We're very excited to partner with WATERisLIFE and to take us one step closer to bringing clean water to the nearly 1 billion people without it
PALO ALTO, CA (PRWEB) June 27, 2017
The Good Cards, an innovative mobile app and card game that inspires players do good deeds and random acts of kindness, has surpassed its $10,000 goal on Kickstarter. Along with crowdfunding success, The Good Cards is pleased to announce a partnership with WATERisLIFE, one of the leading water charities in the world.
WATERisLIFE is working with The Good Cards to co-create an in-game mission specifically focused on taking individual action to support solutions to the water crisis.
"We're very excited to partner with WATERisLIFE and to take us one step closer to bringing clean water to the nearly one billion people without it," said founder Pawel Alwa. "It's also encouraging to see this type of response for our game and app, which gives people everywhere another opportunity to make our world a better place."
With The Good Cards Game and App (available for both iOS and Android), anyone has the ability to do good deeds and acts of kindness for people everywhere – and have fun while they're doing it.
When users play, Alwa says everyday people are joining a "legion of superheroes" – and connecting with millions of individuals from across the globe to harness the power of collective positive actions.
Using The Good Cards app, players move through individual missions that allow them to do something kind for someone else as anonymously as possible. Once they've done their good deed, the 'hero' player then asks the other person to simply pass on the kindness by doing something good for someone else – receiving a Good Card in return, which allows the game to continue.
Once the card is received, the new player scans the card – with the growing number of good deeds creating a chain reaction of goodness. The progress of the card can be tracked through The Good Card app, with users sharing the stories of their good deeds with other players.
During crowdfunding, people can pre-order The Good Cards at a variety of levels starting at only $2 for a single 'good card.'
For $39, crowdfunders receive The Good Box Special Glasses Edition, which includes:

12 of The Good Cards, allowing the player to become the 'ultimate superhero' by starting 12 new chains of good deeds
A Special Mission Wristband that activates a secret mission on Level 1.
A unique pair of Dreamers' Glasses that will activate a special mission on Level 2.
For more information, and to pre-order, visit The Good Cards Campaign Page on Kickstarter.
About Good Cards
The Good Cards is young and innovative social enterprise that combines the vision of a better world with technology-driven solutions. The mobile game was developed to create a global trend to do good while empowering people to take small positive actions and witness that impact in real-time.
The Good Cards also allow people to connect with millions of individuals from across the globe, with the goal of creating a community of real-life superheroes called 'Dreamers.' By harnessing the power of collective actions aimed at generating good deeds everywhere, the game creators expect The Good Cards will change the world for the better.
About WATERisLIFE
WATERisLIFE is the 6th largest water sanitation organization helping to provide clean water + sanitation & Hygiene to the 663 million people who lack access to clean water.
WATERisLIFE is about impact, showing donors and supporters how lives are being changed. WiL provides clean drinking water, sanitation and hygiene education programs to schools and villages in desperate need. They provide opportunities for others to be involved through fundraising and field project implementation. The global water crisis can be daunting. WATERisLIFE focuses on making an impact community by community.
Through community-driven and community-engaged programs, WATERisLIFE works closely with nonprofit partners, local governments and community organizations to focus on an integrated approach that ensures households, schools, orphanages and medical facilities have access to safe water, proper sanitation and hygiene programs. The results of their work change everything. Hours are restored each day. Women can use their time to learn a trade, start a business and receive an income. Children can receive an education. Clean water will reduce sickness by almost a third.
They not only provide temporary, life-saving water filtration straws for the immediate need, but WiL is also committed to developing community-driven initiatives that will continue to save thousands of lives for generations to come.