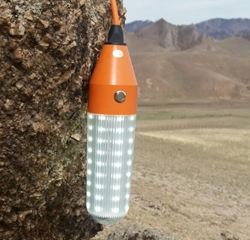 With the new light, we knew we had to take the features our customers already loved, whilst improving every aspect we could
Melbourne, Victoria (PRWEB) June 28, 2017
How to you improve on an already successful product? For the makers of the Torpedo Light this was no easy task. The original Torpedo Light was known across the camping and recreational industry as a tough portable light which could withstand just about any punishment. "With the new light, we knew we had to take the features our customers already loved, whilst improving every aspect we could," John Gurney, designer of the torpedo light explained.
The TorpedoLight developed its reputation as a formidable and tough light through years of testing and feedback from customers. From being dropped from heights or sitting in the rain, the Torpedo Light has experienced, and was designed to survive, just about all conditions thrown at it. The new LED camping light was designed in consultation with campers, boaters, mechanics and a variety of other users in many industries, this light has been described as the toughest of the tough. The unit operates on 9-36Vdc and features the latest very high output LED technology, providing excellent light output, low current draw and very long life. The Light comes with various brightness options, 50%, 100% and Half (inspection mode)
TorpedoLight are not resting on their laurels though. In the back half of this year a range of accessories and complimentary products are due to hit the market to ensure the TorpedoLight remains the top choice for campers and boaters.