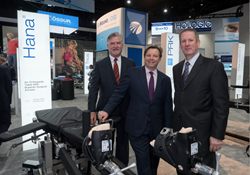 Union City, Calif (PRWEB) June 27, 2017
Mizuho OSI®, a manufacturer of specialty surgical tables, pressure management solutions, and table specific patient care kits, is supporting continuing education for medical professionals with an equipment placement at the OLC Education & Conference Center, a state-of-the-art medical and surgical learning facility located near Chicago, IL.
Mizuho OSI installed its Hana® Orthopedic Surgery Table at the OLC so that visiting physicians, surgeons and medical professionals will have hands-on access to the instruments they need to solve complex surgical challenges and improve patient outcomes.
"The Hana table is revolutionary in aiding with the anterior approach for hip replacement surgery and reducing patient recovery time," said Greg Neukirch, Vice President of Sales and Marketing at Mizuho OSI. "Providing healthcare professionals with access to practical experience outside the operating room is essential for continuous improvements and advancements in surgical procedures. We are pleased to partner with the OLC in this effort," Neukirch concluded.
Mizuho OSI's specialty surgical table at the OLC is one of five installations the company has recently made at leading medical learning centers across the nation.
"We are grateful to Mizuho OSI for their generous gift to our cutting-edge bio-skills lab," said Lise Puckorius, CEO of the OLC. "The Hana table is an excellent complement to the surgical equipment in our lab and provides a valuable learning experience for our visitors to advance their skills."
About the OLC
The OLC is a global destination for medical/surgical learning. With over 14,000 square feet, the state-of-the-art venue features multi-purpose auditorium/meeting lecture space, a spacious hands-on teaching lab, and a fully equipped HD broadcast video studio wired for livestreaming and video conferencing. Each year the OLC hosts hundreds of events, meetings, special events and lab trainings. Conveniently located minutes from O'Hare International Airport, the OLC provides a central meeting location for groups traveling domestically or from abroad. Learn more at http://www.olcevents.com.
About Mizuho OSI
Mizuho OSI® is a U.S.-based company and the leader in the markets for specialty surgery and patient positioning. The company's portfolio includes specialty surgical tables for procedure-specific approaches that improves patient outcomes in spine and orthopedic surgeries and a range of general surgical tables along with disposable and reusable surgical patient care products. Mizuho OSI products are sold direct in the U.S. and Germany, and by the Mizuho Corporation in Japan. Both companies sell their products and solutions worldwide through authorized international distributors. Mizuho OSI is a wholly owned subsidiary of Mizuho Corporation located in Tokyo, Japan, a leading surgical table manufacturer in Asia. The Mizuho Group also includes Trilux Medical®, a subsidiary of Mizuho OSI. Trilux Medical is a provider and manufacturer of surgical lights, surgical pendants, operating room patient integration, video management systems, and turn-key operating room solutions. Trilux Medical products and solutions are sold direct in Germany and worldwide through authorized international distributors. More information is available at http://www.mizuhosi.com.