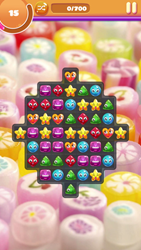 Richmond Hill, NY (PRWEB) June 27, 2017
Match-three puzzle games have taken the app world by storm in recent years, and Candy Land is the latest to get in on the action by creating one with a fascinating and marvelous concept. Candy Land is proud to announce the launch of its new, mouth-watering app that will keep you excited and entertained all day long and can be downloaded for free at the iTunes app store.
To play, match three or more of the same kind of candy. Drag to move adjacent candy and swap positions for a match of three. This appetizing game will appeal to children and adults of all ages and be enjoyed by users worldwide.
The game is the newest and latest in accumulative match-three puzzle apps. Some of the games more intriguing features include better animation and music than other match-three puzzle apps, as well as the ability to match more than three game pieces and make in-app purchases.
Get ready to be lost in hours of fun as you try to travel through the hundreds of levels and different themes that await you in the sweet and tasty Candy Land app.
About: Kevin Puzio is the creator and seller of the Candy Land app. Version 1.1 of the Candy Land app, which includes new levels and a Game Center, is free to download in the iTunes app store under the 'Games' category. The size of the app is 47.7 MB. The app requires iOS 9.3 or later and is compatible with iPhone, iPad and iPod touch.