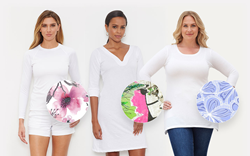 St. Louis, Missouri (PRWEB) June 28, 2017
Having worked with hundreds of specialty boutiques over the years, the St. Louis manufacturer saw first-hand the all too familiar challenges of small specialty stores trying to compete with the web. Whimsy Rose decided that while they needed to be selling online to reach undeserved consumers, they also saw the importance of their specialty store partners. The program was set up to find the best way to help stores maximize their Whimsy Rose in-store footprint, with Whimsy's Roses on-demand capabilities.
Specialty store owners pride themselves in providing both unique merchandise and engaging personal service. Whimsy Rose's business model had always enabled its' wholesale customers to order one-off custom printed garments, should the store not have the customers size or desired print in stock. "The challenge however was how could we easily share thousands of options to independently owned stores, so they could better service their customer on the spot," pondered CEO Joe Werner and his team. Small retailers go through the effort of bringing in select Whimsy Rose pieces and assisting the consumer with the fit and feel of a Whimsy Rose garment, but they could lose sales by not having the exact print or style the in-store customer may be looking for.
Prints are very personal and the Whimsy Rose consumer appreciates the flexibility and personalized aspect of being able to match their ideal style with a print design they identify with. Whimsy Rose production and fulfillment system was in place, but with each store having diverse POS systems going through 1500 items in a catalog was simply not an option. The team wanted a solution that everyone was already familiar with and painless to implement. The foundation of the solution was sitting in front of them and it turned out to be an iPad.
Working with the web development team 5by5 Global and Shopify's e commerce platform, Whimsy Rose built a new custom web site that would allow any store owner with an iPad a quick and easy way to present over a thousand Whimsy Rose combinations to their customers and take special orders without the store having to have a significant amount of inventory.
To service both the consumer and the specialty stores even further, the program will also support the stores loyal customer from the convenience of their home. "We have now expanded the Shop On-line Local program, which will credit the local boutique with the sale; should a consumer make a purchase on-line and reference their favorite store prior to checkout; or when the shopper clicks on the stores unique identifier link prior to their purchase at http://www.whimsyrose.com. The Shop Local idea of supporting small businesses in the communities they serve really resonates with everyone. The program which launched earlier this month in New York received excellent industry feed-back," states Whimsy Rose Partner Peter Daneyko,
"It is refreshing to see a manufacturer responding to current market trends in an innovative, creative and mutually collaborative manner as Whimsy Rose and their Shop Local initiatives for the specialty store marketplace." Shawn M. Hazan, Director Strategic Planning & Development
UBM FASHION / UBM plc
About Whimsy Rose
Whimsy Rose is print driven women's apparel brand that celebrates the artistic spirit through custom personalization and on-demand production. By enabling women to easily mix designer prints with styles of their choosing, Whimsy Rose gives women greater flexibility and freedom to express themselves, as they become part of the design process in their creative choices. The St. Louis based, premium dye-sublimation company leverages its' patented (AOP) all-over print license with its on-demand production system to deliver customized individual garments via whimsyrose.com and to specialty stores throughout the U.S, Canada and Australia.
Contact Information
Peter Daneyko Whimsy Rose – 314 266 5362