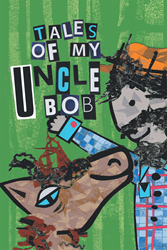 TASMANIA, Australia (PRWEB) July 03, 2017
An Australian-based author has released his first children's book. "Tales of My Uncle Bob," by author Chris Robinson, highlights several stories about Uncle Bob, a fictional character created by Robinson.
In "Tales of My Uncle Bob," readers are introduced to a man named Uncle Bob, a man who lives on his own in the Northern Australian outback. The main character shares several of his own adventurous experiences in the Northern Territory of Australia, including droving cattle and almost being swallowed whole by a snake. Throughout each story, Uncle Bob always stays true to himself and who he is, which is something Robinson hopes readers will do, too.
Robinson has been telling his stories about Uncle Bob to school children in Tasmania for several years. He decided to put his stories on paper after several people, peers and school children, encouraged him to do so. He developed the idea of 'Uncle Bob' after meeting an older man while exploring the Australian outback. After the man told Robinson several of his life experiences, Robinson was moved. He says he likes to keep people guessing when asked if Uncle Bob is in fact a real person.
"When people ask me if Uncle Bob is a real person, I like there to be a bit of mystery," said Robinson. I tell them there's a bit of Uncle Bob in everyone."
"This is such an exciting read," a reviewer wrote in a five-star review of "Tales of My Uncle Bob." "This book is suitable for the young and old and it involves the uncle everybody wants as well as some good Australian details."
"Tales of My Uncle Bob" is a must read for children, parents and youth of all ages.
"Tales of My Uncle Bob"
By Chris Robinson
ISBN: 978-1-5245-2038-0 (softcover); 978-1-5245-2039-7 (hardcover); 978-1-5245-2037-3 (electronic)
Available at Xlibris Bookstore, Amazon and Barnes & Noble
About the author
Chris Robinson is a schoolteacher who has worked in Tasmania and Northern Australia. He has visited most of the places his Uncle Bob has worked as a drover in Australia. From the letters sent to him by his adopted uncle, here are tales that will make you laugh and wonder what is possible. Over many years, he has shared these stories, and many more, with school students in Hobart.
###
Review Copies & Interview Requests:
LAVIDGE – Phoenix
Bryan Beach
480-998-2600 x 519
cpena(at)lavidge(dot)com
General Inquiries:
LAVIDGE – Phoenix
Bryan Beach
480-998-2600 x 510
bbeach(at)lavidge(dot)com