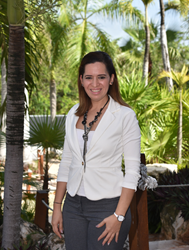 Cancun, Mexico (PRWEB) June 28, 2017
Seasoned wedding and events planner, Daniela Ocampo Morales, has joined the professional planning team presiding over popular weddings and group events at Ocean Coral & Turquesa and Ocean Maya Royale in Mexico's Riviera Maya.
With ten years experience planning events for varied groups and occasions, Ms. Morales is an expert at executing a variety of cultural and social events, including Hindu Indian ceremonies. Morales holds certifications by The Wedding Planner Institute of Canada and Instituto de Universitarios in Mexico.
Prior to joining Ocean by H10 Hotels, Morales was a wedding planner at Palace Resorts Hyatt Regency Cancun, and Riu resorts, welcoming international groups and clientele with her exacting planning skills and attention to detail.
Known for its "Perfect Day Weddings & Celebrations", Ocean by H10 Hotels offers the most popular options for romantic weddings on the beach in the Riviera Maya: Ocean Maya Royale in Playa Del Carmen and Ocean Coral &Turquesa, in Puerto Morelos. Both hotels offer celebrations of Civil Partnerships/LGBT, as well as symbolic, traditional and religious, non-denominational, and interfaith/intercultural unions.
Ocean Coral &Turquesa features celebrations on the beach, on the lobby terrace overlooking the Caribbean Sea, or in its indoor convention center accommodating up to 200 guests. At Ocean Maya Royale, private ceremonies are performed under a gorgeous gazebo, on the beach, dockside, in the tropical gardens, or on the waterfall terrace.
"Daniela brings great energy and new ideas that will help us execute truly 'perfect' weddings and celebrations at our most popular beachfront resorts,"said Oscar Serrano, Vice President of Sales & Marketing.
To book and wedding or upcoming group event, contact Daniela Morales at +52 998 287 2100– ext 2001 or by email at weddings.mex(at)oceanhotels.net
About Oceanby H10
Ocean by H10 Hotels was founded in 2007 as a joint venture between Spain-based H10 Hotels and Vacances Air Transat, a leading Canadian tour operator and charter carrier. The company currently operates resorts in Mexico, the Dominican Republic and Cuba.
The brand's All-Inclusive resorts include Ocean Coral & Turquesa, Ocean Maya Royale and Ocean Riviera Paradise in Cancun and Riviera Maya, Mexico; Ocean Blue &Sand in Punta Cana, Dominican Republic; Ocean Varadero El Patriarca and Ocean Vista Azul in Varadero; and Ocean Casa del Mar in Cayo Santa Maria.
Privileged beach front locations, close proximity to gateway airports, a la carte restaurants and a unique "All-Inclusive 24 hours" identity truly characterize the Ocean by H10 Hotels brand.