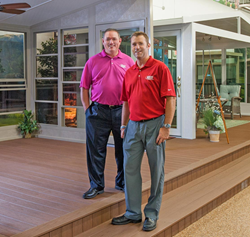 Cleveland, Ohio (PRWEB) June 28, 2017
Recently, Universal Windows Direct, a home remodeling company, announced the opening of its fifth corporate location in St. Louis, Missouri, Aug. 1, 2017. After starting the company 15 years ago, owners William Barr and Mike Strmac have seen their company grow from a 350 sq. ft. office, to a leader in the home improvement industry.
The company's rapid growth, it has allowed them to expand its brand nationwide. The opening of the new corporate location offers employment opportunities in the eastern Missouri area. Universal Windows Direct is seeking talented, outgoing professionals for immediate hire in its marketing, sales and installation departments. Universal Windows Direct believes in a work environment, where employees are treated like family. Its culture creates a fun work environment, where employees are driven and motivated, not only for the improvement of the company but also for the betterment of themselves. For more information regarding career opportunities please visit, http://www.universalwindowsdirect.com
Of the company's recent success, William Barr, CEO of Universal Windows Direct, said, "As one of the largest remodelers in America we are excited to open another Company store and we look forward to servicing the community!"
Since the founding in 2002, Universal Windows Direct has accomplished the following:

Corporate locations in Cleveland, Ohio, Columbus, Ohio, Charlotte, North Carolina, and Indianapolis, Indiana
38 Licensed dealerships nationwide
About Universal Windows Direct: Universal Windows Direct is a home improvement company, headquartered in Cleveland. Offering services such as replacement windows, entry doors, and vinyl siding, the company has serviced thousands of homeowners. Universal Windows Direct prides itself on providing the highest quality home improvement products backed by industry leading warranties. Universal Windows Direct was ranked 16th by Qualified Remodelers in its Top 500 list in 2016.