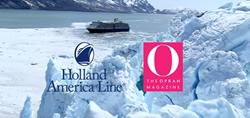 New York, NY (PRWEB) June 28, 2017
In celebration of Oprah Winfrey's "Year of Adventure" – a year dedicated to exploration and self-enrichment – O, The Oprah Magazine partnered with Holland America Line to create the "Share The Adventure" cruise, which sets sail to Alaska this July. Gayle King, editor at large of O, The Oprah Magazine and host of CBS This Morning, joined YourUpdateTV this past Friday to discuss the exciting new "Share The Adventure" cruise.
A video accompanying this announcement is available at: https://youtu.be/wRBnnoPVuX0
"Share The Adventure," will feature a variety of O Magazine-inspired activities, including morning meditation, an on-board book club, and more. The "Share the Adventure Cruise" to Alaska on July 15 aboard ms Eurodam will feature tips and advice from Emmy Award winner and O, The Oprah Magazine creative director Adam Glassman. The style guru will host a 'Love That!' presentation revealing the latest trends during a fashion show on The Mainstage as well as provide packing tips for every traveler. Additionally, SuperSoul 100 members, a collection of inspiring authors, artists, entrepreneurs, and visionaries, will be on-board to provide helpful tips on everything from travelling in style to healthy eating and living your best life.
O, The Oprah Magazine editor at large Gayle King and editor in chief Lucy Kaylin will present 'The Making of O,' a behind the scenes look at how the publication makes the journey from rough concepts to the newsstand and mailboxes each month. O, The Oprah Magazine books editor Leigh Haber and #1 New York Times bestselling author and Pulitzer Prize–winning author Elizabeth Strout will kick off 'O's Reading Room', an on-board book club for passengers, with Strout's latest release, Anything Is Possible, currently available in bookstores and online.
Oprah Winfrey will sail onboard ms Eurodam for a portion of the July 15 sailing and passengers will have the opportunity to attend one of two complimentary speaking engagements while cruising.
In addition to the July 15 "Share the Adventure" Cruise, four additional O, The Oprah Magazine "Adventure of Your Life" sailings will feature SuperSoul 100 members to be announced and O Magazine–inspired activities, departing Nov. 29, 2017, 11-day Caribbean; March 3, 2018, seven-day Caribbean; Aug. 11, 2018, seven-day Alaska; and Oct. 28, 2018, seven-day Caribbean.
To further enhance the programming, more than 300 Holland America Line cruises sailing in North America from August 2017 through 2018 will offer a variety of engaging activities developed with the magazine's editors.
Fares for the July 15 "Share the Adventure" seven-day Alaska cruise start at $999 per person, double occupancy. Taxes, fees and port expenses are additional.
For more information, contact a travel professional, call 1-877-SAIL-HAL (1-877-724-5425) or visit HollandAmerica.com/OprahMag.
About Gayle King:
Gayle King has served as editor at large of the award-winning O, The Oprah Magazine since 1999, shaping the magazine's content and message and coordinating the efforts of staff and contributors with the vision of the magazine's founder and editorial director, Oprah Winfrey. In 2011 King was named co-host of CBS THIS MORNING. Between 2004 and 2011, she has appeared more than 20 times as a guest on The Oprah Winfrey Show, as well as on a number of popular television broadcasts, including Good Morning America, Larry King Live, Rachel Ray, The View and Entertainment Tonight.
About YourUpdateTV:
YourUpdateTV is a social media video portal for organizations to share their content, produced by award-winning video communications firm, D S Simon Media (http://www.dssimon.com). It includes separate channels for Health and Wellness, Lifestyle, Media and Entertainment, Money and Finance, Social Responsibility, Sports and Technology.
About Holland America Line [a division of Carnival Corporation and plc]:
Holland America Line's fleet of 14 ships offers more than 500 cruises to more than 400 ports in 98 countries, territories or dependencies around the world. From shorter getaways to 113-day itineraries, the company's cruises visit all seven continents with highlights including Antarctica explorations, South America circumnavigations and exotic Australia/New Zealand and Asia voyages; four annual Grand Voyages; and popular sailings to the Caribbean, Cuba, Alaska, Mexico, Canada/New England, Bermuda, Europe and the Panama Canal. The line welcomed ms Koningsdam in 2016 and has a second Pinnacle-class ship, ms Nieuw Statendam, to be delivered in December 2018. A third Pinnacle-class ship, due for delivery in 2021, recently was announced.
The company is undergoing $300 million in brand enhancements to secure its position as the leader in premium cruising. Fleetwide, the ships feature innovative initiatives and a diverse range of enriching experiences focused on destination immersion and personalized travel. Guests can expand their knowledge through an exclusive partnership with O, The Oprah Magazine; during an America's Test Kitchen show; at Explorations Café presented by The New York Times; and by taking a Digital Workshop powered by Windows. Outstanding entertainment fills each evening at venues including Lincoln Center Stage, Billboard Onboard and B.B. King's Blues Club. The dining experience can be savored at a variety of restaurants with menus that feature selections from Holland America Line's esteemed Culinary Council that comprises world-famous chefs who design dishes exclusively for our guests.
Holland America Line:
Sally Andrews
Vice President, Public Relations
pr(at)hollandamerica.com
800-637-5029 or 206-626-9890