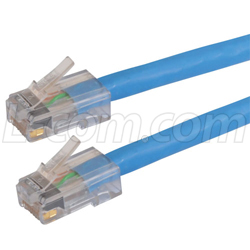 "These new assemblies offer protection of expensive equipment and protect people in the event of a fire. With a Category 6 rating these cables provide high throughput for Gigabit Ethernet networks," said Dustin Guttadauro, Product Manager
NORTH ANDOVER, Mass. (PRWEB) June 29, 2017
L-com Global Connectivity, a preferred manufacturer of wired and wireless connectivity products, announced today that it now offers Cat6 LSZH solid conductor cable assemblies to address Ethernet infrastructure applications.
The new TRD695LZBL-series cables are designed for environments where PVC's combustive toxicity is restricted. The Category 6 rated RJ45 plug and cable is designed for high-speed networking applications. Additionally, these new Cat6 LSZH cables ensure the protection of expensive communications equipment and people by utilizing low-smoke zero-halogen jackets.
The bulk cable, part number TDLC6-BLU, used to make these assemblies is also now available for purchase in 1,000 foot spools.
"These new assemblies offer protection of expensive equipment and protect people in the event of a fire. With a Category 6 rating these cables provide high throughput for Gigabit Ethernet networks," said Dustin Guttadauro, Product Manager.
These new Cat6 LSZH cable assemblies and bulk cable are in stock and available for immediate shipment.
For more information about this release, please contact:
Peter McNeil
L-com Global Connectivity
17792 Fitch
Irvine, CA
978-682-6936 x1174
About L-com Global Connectivity:
L-com Global Connectivity, a leading manufacturer of wired and wireless connectivity products, offers a wide range of solutions and unrivaled customer service for the electronics and data communications industries. The company's product portfolio includes cable assemblies, connectors, adapters, antennas, enclosures, surge protectors and more. L-com is headquartered in North Andover, Mass., is ISO 9001: 2008 certified and many of its products are UL® recognized. L-com is an Infinite Electronics company.