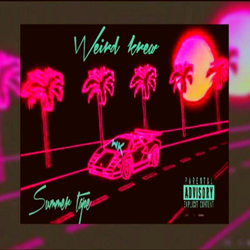 Tampa, FL (PRWEB) June 28, 2017
The emerging Hip-Hop collective coming out of Tampa, FL, W3!rd Kr3w has recently released their latest project, "SummerTape". The project is currently available to stream and download on Coast 2 Coast Mixtapes and features the 9 tracks, which are listed below:
1. Summer2K17
2. Pay Attention
3. Saucy
4. T.O.T.
5. Mad Man
6. R.A.S.
7. TB813
8. FURIOUS(CED)
9. Vibin and Grindin
The W3!rd Kr3w was founded in early 2015 which consisted of founding members: Edweird, Greg0reo, and C.E.D. Later new members would join such as OnePunchMike, King Cold, M.D.O, and Treezilla.
The goal of group is to bring a fresh, young sound and odd flows to the ever-changing genre of Hip-Hop and this summer release is meant to do just that. Future shows are being planned for the collective on August 3rd at the Orpheum in Ybor City, Tampa and more to come. Up and coming projects from the group include a duo collaboration tape titled "The Sculpture", from artists OnePunchMike and Greg0reo as a sub group of W3!rd Kr3w known as the "Street Sorcerors". Another project coming out is Greg0reo's solo EP.
Fans can visit W3!rd Kr3w's official Soundcloud page for all the latest music.
About Coast 2 Coast Mixtapes:
Coast 2 Coast Mixtapes are the most widely distributed mixtapes in the world, with over 100 million downloads/plays generated by over 300 volumes officially hosted by major artists. Coast 2 Coast has a solid reach in the new music industry with a digital magazine, DJ coalition, industry tips blog, yearly convention, and more. Coast 2 Coast Mixtapes represents a unique opportunity for artists of all urban genres, from major to indie. For more information, visit http://www.coast2coastmixtapes.com