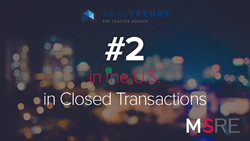 "The best individual agents and teams—including Mark Spain's award-winning efforts—were nothing short of phenomenal considering the challenges in today's complex housing market," said Steve Murray, founder of REAL Trends.
(PRWEB) June 28, 2017
"The Thousand Top Real Estate Professionals" is a prominent national awards ranking, sponsored annually by REAL Trends and advertised in The Wall Street Journal. Ranking No. 2 nationally for closed transactions and No. 13 for annual closed sales volume (separate list). Mark Spain and his team annually appear somewhere in the top 10 for this exclusive list, moving up four spots from the previous year.
Having its best year yet, the Mark Spain Real Estate team achieved 1,842 home sales in 2016, with total gross sales of $443 million. This was more than 600 homes better than the team's total closings in 2015. Gross sales also increased a whopping $160 million, year-over-year. For homes listed for sale by the brokerage, the average time from hitting the market to under contract was just 30 days (far better than the market average).
"My team did everything asked of them and much more. They were amazing! This year, as we continue to expand our sales team, get our recently opened third office south of Atlanta up and running at full staff, and complete our plans to open a location in Marietta within the next 90 days as well as an office in Buford, Ga. before year-end" explains Chairman and CEO Mark Spain. "We have every reason to believe we will be the first team to ever break the 2,000 sales barrier on The Thousand list."
The REAL Trends ranking of the nation's top real estate professionals has been around for 12 years. The top-producing agents and teams making the list are ranked in the top one half of 1 percent of the more than 1.25 million Realtors® nationwide. The exclusive list was officially published Friday, June 23, 2017, and can be found at http://www.thethousandrealestateprofessionals.com.
"The best individual agents and teams—including Mark Spain's award-winning efforts—were nothing short of phenomenal considering the challenges in today's complex housing market," said Steve Murray, founder of REAL Trends, a Denver-based consulting, publishing and communications company and The Trusted Source that complies the yearly, third-party verified list.
The accolades for 2016 keep coming. Mark Spain Real Estate (MSRE) was named to the Inc. 5000 in late 2016, a list considered to be the most prestigious ranking of the nation's fastest-growing private companies. Companies like Microsoft, Domino's Pizza, Pandora, LinkedIn, Yelp and other well-known names gained their first national exposure as honorees on Inc. 5000.
Mark Spain and his team surpassed $3 billion in collective gross sales for his career while heading his namesake brokerage. In addition, his name became the No. 1 most reviewed Realtor on Zillow in the entire United States. MSRE was honored in March 2017 with the AJC Top Places to Work award. The top 150 small, medium and large metro Atlanta workplaces were selected based upon employee feedback, recognizing those employers who invested as much in their employees' well-being as they did in tangible company perks, thereby earning the loyalty and respect of their employees in the process. The following month, MSRE was again honored, this time as one of the fastest growing private firms in Georgia, receiving the Atlanta Business Chronicle Pacesetter Award.
"Our first year of becoming an independent brokerage was so incredible with all the growth, expansion and adding the Athens real estate market to our coverage area, that I almost don't know how we could top it," President John Makarewicz says proudly. "But if there's one thing I know without a doubt, we will definitely try!"
MSRE's headquarters is located at 12600 Deerfield Parkway, Suite 450, in Alpharetta, just a short drive northeast of downtown Atlanta. To learn more about the very active Atlanta and Athens real estate markets, call 770-886-9000 or visit markspain.com to sign up for property alerts. The free Mark Spain Real Estate app is available to download at app.markspain.com.
About Mark Spain Real Estate (MSRE)
MSRE is a leading, Georgia based, independent real estate firm. Prior to forming the company in January 2016, Mark Spain and his team were annually the No. 1 large team for sales production with the Atlanta Realtors Association for more than 10 consecutive years and annually appeared in the top 10 of the REAL Trends/Wall Street Journal list of America's top 1,000 agents and teams. In 2016, MSRE achieved 1,842 home sales for total gross sales of $443 million. The MSRE Athens, Ga. office, opened in mid-2016, surpassed its 100th sale in less than nine months and will soon celebrate its first anniversary. A third MSRE office was recently opened in spring 2017, this time south of Atlanta in Stockbridge/Henry County.
A proud University of Georgia Terry School of Business graduate, Mark Spain is the only metro Atlanta real estate agent to be endorsed by Barbara Corcoran, the real estate mogul frequently seen on ABC's Shark Tank. Visit YouTube to see the 30-second testimonial.
###