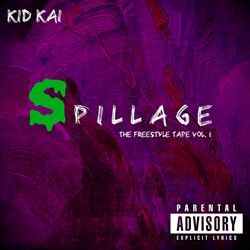 Virginia Beach, VA (PRWEB) June 28, 2017
For those of you who are just tuning in to the KiD, there is no better time then the present to get hooked in on a new wave. Since his last mixtape, "Talk'n'Pains," was released on October 6th, 2016 it seemed that KiD KAi was left in a downward spiral. The project details KiD's journey, speaking on everything from past breakups to new makeups. Seven months later, he's back with all new material and ready to do things how he did back when the engineer hit record on his first track 7 years ago.
KiD has most recently released the 2nd single off his 3rd upcoming mixtape "The Spillage EP," which is set to release mid-Autumn.
His new single, "MAHF***A" is currently available to stream and download on Coast 2 Coast Mixtapes. "The Spillage" is a collection of freestyles/freeverse's recorded over industry and underground instrumentals just to show KiD KAi's versatility from his wordplay to his catchy hooks, giving proof that he is and forever will be raw and uncut.
For fans who want to stay up to date on all the latest music from KiD KAi, be sure to visit his official Soundcloud page.
About Coast 2 Coast Mixtapes:
Coast 2 Coast Mixtapes are the most widely distributed mixtapes in the world, with over 100 million downloads/plays generated by over 300 volumes officially hosted by major artists. Coast 2 Coast has a solid reach in the new music industry with a digital magazine, DJ coalition, industry tips blog, yearly convention, and more. Coast 2 Coast Mixtapes represents a unique opportunity for artists of all urban genres, from major to indie. For more information, visit http://www.coast2coastmixtapes.com