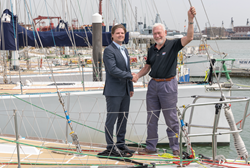 Like the Clipper Race, HotelPlanner.com is a leader in its field, and its experience in providing the best group hotel booking options means our crew and their supporters will have a fantastic experience in every stopover port.
West Palm Beach, FL (PRWEB) June 28, 2017
HotelPlanner.com, the leading online provider of group and individual travel services, will make its global ocean-racing debut as a Team Partner in the Clipper 2017-18 Round the World Yacht Race, which will start from Liverpool, UK, on Sunday, 20 August, 2017.
The HotelPlanner.com yacht will be one of twelve teams participating in the eleventh edition of the unique 40,000 nautical mile Clipper Race, an eleven-month voyage with exposure across six continents. As a global company with offices across the US, UK, and Hong Kong, HotelPlanner.com is excited to take advantage of this unique opportunity to engage with customers in key markets across the globe.
Founded in 1995 by legendary sailor Sir Robin Knox-Johnston, the first person to sail solo non-stop around the globe, the Clipper Round the World Yacht Race is an extraordinary opportunity for everyday people to follow his experiences. Over the past twenty years, almost 5,000 non-professional crew, many with no previous sailing experience, have been turned into ocean racers through the Clipper Race. Over 710 people, from all walks of life and representing more than 40 different nationalities, will compete in what is undoubtedly the world's greatest ocean adventure.
"We are honoured and excited to partner with the Clipper Round the World Yacht Race," said HotelPlanner.com Co-founder and CEO Tim Hentschel.
"As a travel technology company always striving to set industry firsts, we respect the extreme endurance, confidence, and fearlessness exhibited by the event's brainchild Sir Robin Knox-Johnston, and the sailors who set out to confront Mother Nature's most epic challenge."
Founded in 2002, HotelPlanner.com has become a leading provider of hotel services for professional and university sports teams and events worldwide, and the Clipper Race is no exception. With its robust technology and automated rate checkers, HotelPlanner.com will provide the crew and supporters with the best rates for bookings in every port throughout the race from its network of more than 100,000 quality hotel partners worldwide.
After signing the agreement, Sir Robin said: "We are very pleased to welcome HotelPlanner.com as a Team Partner for the Clipper 2017-18 Race."
"As a new addition to the Clipper Race family, HotelPlanner.com will bring fresh energy and outlook to their team, which will be needed during their gruelling journey around the world. Like the Clipper Race, HotelPlanner.com is a leader in its field, and its experience in providing the best group hotel booking options means our crew and their supporters will have a fantastic experience in every stopover port."
"I wish the HotelPlanner.com Skipper and team all the very best for their campaign."
The Clipper 2017-18 Race will start in Liverpool on Sunday 20 August 2017 and return almost a year later on Saturday 28 July 2018, after following a global route which includes stopovers in Punta del Este, Cape Town, Fremantle, Sydney, Hobart, East Coast Australia (Port TBC), Sanya, Qingdao, Seattle, Panama, New York, and Derry Londonderry.
About HotelPlanner.com:
HotelPlanner.com is the leading provider of online services in the global group hotel marketplace. Listed among the top 50 travel sites in the world and ranked number one in group travel, HotelPlanner.com is on track to produce nearly 1 million group leads this year, and is providing group hotel booking services to over 3,000 groups per day. The company's robust technology and automated rate checkers provide customers with the guaranteed lowest available rates from a network of more than 100,000 quality hotel partners worldwide, making it easier and faster to book hotels for any corporate and leisure event. With its new eRFP group booking system, "Book-in-Block" and licensing technologies, HotelPlanner.com continues to advance the group booking process online for direct clients, market leading affiliates and hotel partners worldwide.
The company owns and operates Meetings.com, a premier site that provides information, planning and booking services for meetings and hotel stays for corporations, associations and business-to-business enterprises. By combining advanced technology with a highly experienced staff of professional meeting planners and travel specialists, Meetings.com quickly finds clients the perfect space at the best price for meetings large and small.
Customers can visit HotelPlanner.com online at http://www.hotelplanner.com, or on its mobile app, which provides users with the lowest, real-time hotel rates and availability, detailed hotel information and an easy booking tool right from the palm of their hand. They can also follow HotelPlanner.com on Facebook, Instagram, Twitter, Google+, YouTube and its Everything's Better Together blog.
Founded in 2002 by CEO Tim Hentschel and CIO John Prince, the company provides 24/7 customer service and has offices in London, England (European Headquarters), Hong Kong (Asian Headquarters), West Palm Beach, FL (USA Headquarters), and Las Vegas, Nevada.
HotelPlanner.com is proud to provide hotel reservation services to valued clients within the sports team and university, corporate, and government organizations. The company's Pro Sports Team clients most notably include Matchroom Sport, Washington Redskins, Professional Bowlers Association, European Professional Golfers (EuroPro), Super League (Rugby), AFC Wimbledon, Euroleague Basketball, Millwall F.C., and Swansea FC. In terms of college travel, Universities such as Texas A&M, New Mexico State, Saint Mary's College, Bradley University, University of Reno-Nevada, University of Illinois-Chicago, Northeastern University, Cal Poly, and California State University Northridge use HotelPlanner to negotiate their group travel and recruiting stays. Corporations such as CROMPCO, Jackson Motor Sports, National Grid, Chicago Bridge & Iron, Publix, Servpro and Government clients such as the State of Louisiana, State of Arizona, Government Services Agency, and US Communities also utilize HotelPlanner.com as their hotel procurement provider to negotiate hotel rates, book hotel reservations and provide excellent service year-round.
For further information, imagery and interview requests please contact:
Courtney Dolan, Chief Communications Officer
HotelPlanner.com and Meetings.com
Email: courtney.dolan(at)hotelplanner(dot)com
Mobile: +1 917.951.9027