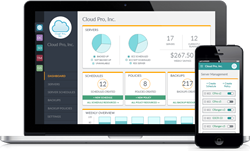 "Our goal in developing this new software was to make cloud management simple and accessible to everyone, across all industries," said Dan Creviston, Chief Product Officer
Chicago, IL (PRWEB) June 28, 2017
CloudRanger, the simple backup solution for Amazon Web Services (AWS), today announced the launch of its newest software, which simplifies users' experience and provides more control over the cloud. The new version offers users effortless scheduling and backup policies, while providing a bird's eye view of the entire server system from one easy-to-use dashboard, ultimately saving users time and money.
"As everything begins to move to the cloud, we see increasingly more cloud users, including many without a technical background. With this shift, visual server management will quickly become essential, as we will see cloud usage surge across industries," said CloudRanger Chief Executive Officer, Dave Gildea. "When we set out to design the new software, we spent a significant amount of time talking with our customers, and based on their feedback, we completely scrapped our old software and built this new version from scratch."
Key features of CloudRanger's new platform include:

Server Management: CloudRanger gives users an overall view of their entire server system, including when individual servers are powered on, when backups occur and how long backups are stored.
Automated Scheduling: The scheduling module enables users to turn on servers only when needed, providing a more economical solution to server rental.
Backup Policies: Users can easily and regularly backup servers by setting a creation schedule and retention period, with the option to apply Amazon tags or other events identification.
Multi-region Backup: Improved disaster recovery management enables users to choose a second backup in alternate location to further protect against disaster and lost data.
File-level Recovery: Users have the option to drill down to file level to choose individual files to recover when restoring a backup.
"While cloud technology continues to make our lives easier and information more accessible, relying on the cloud can also leave you open to disaster, such as outages or cyber attacks. The only way to safeguard your data is with reliable backups and a disaster recovery plan," explained Dan Creviston, CloudRanger Chief Product Officer. "Not only is CloudRanger's new software easy to use, it provides the utmost security by ensuring data is consistently backed up and saved in multiple locations."
CloudRanger's proprietary scheduling and backups across an entire server system are easy to understand for even non-technical users, while the bird's eye view of the entire server system and graphical scheduling module provide a usability for AWS that's not even available from Amazon itself.
"Our goal in developing this new software was to make cloud management simple and accessible to everyone, across all industries," added Creviston. "This version is not only more streamlined and user-friendly, but ultimately gives the user more control over their cloud."
At the time of its software release, CloudRanger is one of the first companies worldwide to be included in Amazon's SaaS Contracts on the AWS Marketplace. Launched in late April 2017, AWS Marketplace SaaS Contracts offers more options and flexibility for both customers and sellers in the AWS Marketplace.
In addition to its newly designed software, CloudRanger has released CloudRanger Instance Type Availability Service (CRITAS) free of charge on Github.com. CRITAS provides a constantly updated list of all available instances in AWS across all regions, and is available as a JSON file on S3.
 
About CloudRanger
CloudRanger delivers cloud server management software for businesses, MSPs and enterprises. Its easy-to-use graphical interface offers users scheduling and backup policies to save time and money. An overall view of the entire server system gives users the most control over their cloud, while delivering enhanced disaster recovery management. CloudRanger is an Amazon Web Services (AWS) Advanced Technology Partner. Clients include HP, NASCAR and MetLife. To learn more, visit http://www.cloudranger.com.
###