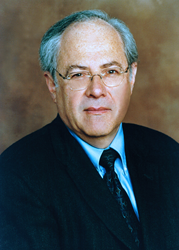 "Clinical trials and research of the biology and treatment of breast and colorectal cancer led by Dr. Wolmark have resulted in practice-changing advances for all cancer patients." - David Parda, MD, Chair, Allegheny Health Network Cancer Institute
PITTSBURGH, Pa (PRWEB) June 28, 2017
Norman Wolmark, MD, an internationally recognized cancer surgeon and Medical Director of Breast Surgical Oncology, Cancer Research and Clinical Trials at Allegheny Health Network (AHN), has been inducted into the OncLive® 2017 Giants of Cancer Care® recognition program.
Dr. Wolmark is among 12 respected healthcare professionals honored for advancing the field of oncology by their contributions in research and clinical practice. They represent some of the nation's and world's preeminent institutions, including Johns Hopkins Medicine, Yale Cancer Center, The University of Chicago Medicine and Harvard Cancer Center.
"Each Giants of Cancer Care® inductee continues to help propel the field of oncology forward through their commitment to innovative and groundbreaking contributions in cancer treatment and research," Michael J. Hennessy Jr., president of Michael J. Hennessy Associates Inc., parent company of OncLive®. "They provide hope to cancer patients and their families and are an inspiration to the future generations of researchers and practitioners who continue advancing toward a cure for these diseases."
All finalists are selected by an elite five-member advisory board of world-renowned oncologists. The finalists in each category are then voted on by a 90-plus member selection committee comprising the nation's leading physicians in the field of oncology. The winners represent 12 categories: breast cancer, gastrointestinal cancer, genitourinary cancer, hematologic malignancies, lung cancer, melanoma, radiation oncology, scientific advances/drug development, pediatric oncology, supportive/palliative/geriatric care, immuno-oncology and surgical oncology.
Dr. Wolmark is Chairman of the NSABP Foundation and Chair and principal investigator of the NCI-funded NRG Oncology. The NSABP has a nearly 60-year history of conducting groundbreaking research studies in breast and colorectal cancer, enrolling more than 110,000 men and women in clinical trials, and coordinating research at nearly 700 major medical centers, university hospitals, large oncology practice groups and health maintenance organizations in the United States, Canada, and Ireland.
A member of a number of professional associations and organizations including the American Surgical Association, Dr. Wolmark is widely published, with more than 400 scientific journal articles and book chapters in print. He is a widely sought-after speaker and lecturer in his field and serves on the editorial board of The Journal of Clinical Oncology, JAMA, and Lancet, on numerous advisory boards, and as an advisor to oncology programs, societies, and institutes throughout the United States and abroad.
"Dr. Wolmark is a truly deserving recipient of this distinguished recognition," said David Parda, MD, Chair, Allegheny Health Network Cancer Institute. "Clinical trials and research of the biology and treatment of breast and colorectal cancer led by Dr. Wolmark have resulted in practice-changing and groundbreaking advances for all cancer patients. His collaborative work has resulted in significant worldwide improvements in cancer prevention, diagnosis, treatment, survival and quality of life for cancer patients . His work has also resulted in more personalized cancer care based on genomic testing and targeted biologic treatments. He has always kept his focus on improving patient care, and has offered the most compassionate and skilled care as a clinician."
###
About Allegheny Health Network & the AHN Cancer Institute
Allegheny Health Network is a western Pennsylvania-based integrated healthcare system that serves patients from across a five state region that includes Pennsylvania, Ohio, West Virginia, Maryland and New York. The AHN Cancer Institute offers a complete spectrum of oncology care, including access to state-of-the-art technologies and new therapies being explored in clinical cancer trials. AHN Cancer Institute provides care at seven hospitals and more than 50 clinics serving patients from western Pennsylvania, Erie, West Virginia and Ohio. Certified by the American Society of Clinical Oncology's Quality Oncology Practice Initiative (QOPI), reflecting AHN's high performance level in all areas, AHN is also the only regional cancer center accredited by the American College of Radiology and the National Accreditation Program for Breast Cancer. AHN hospitals achieved 97 to 98 percent compliance with best practices for cancer care – compared to just 90 percent statewide – as reported by the Commission on Cancer's Cancer Program Practice Profile Reports. AHN physicians are leaders in the nation's largest breast cancer clinical trials group, the National Surgical Adjuvant Breast and Bowel Project, and participate in hundreds of additional cancer clinical trials.
About OncLive®
A digital platform of resources for practicing oncologists, OncLive.com offers oncology professionals information they can utilize to help provide the best patient care. OncLive® is the official website for Michael J. Hennessy Associates' Oncology Specialty Group, which publishes OncologyLive®, Oncology Nursing News®, Oncology Business Management® and more. Michael J. Hennessy Associates, Inc. is a full-service health care communications company offering education, research, medical media, including curetoday.com and CURE® magazine, the largest U.S. consumer publication focused entirely on cancer. Combining science and humanity to make cancer understandable, CURE® reaches patients, cancer centers and advocacy groups.