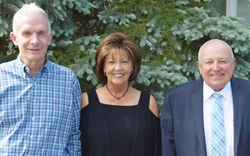 ... after working here for 25 years, this office is more than a business, it's like family.
ELGIN, Ill. (PRWEB) June 29, 2017
Paulette Peiffer, long-time operations manager for RE/MAX Excels in Geneva, Ill., recently joined Hank Erwin as a co-owner of that brokerage, which is one of the leading real estate firms in the Fox Valley.
Peiffer, a resident of Batavia, Ill., purchased the ownership interest of Chris Hansen, who along with Erwin acquired the office in 1999. Hansen will remain affiliated with the office as a broker but wanted to step away from his management responsibilities.
"When Chris approached me with the idea of buying his interest, it was a complete surprise, but I also saw it as a wonderful opportunity," said Peiffer. "For me, after working here for 25 years, this office is more than a business, it's like family. I like maintaining that atmosphere and the team we have now."
RE/MAX Excels currently has 40 affiliated brokers and a support staff of six. It has long been a central factor in RE/MAX's leadership of the Fox Valley real estate market. In 2016, RE/MAX was number one with a 25 percent market share, nearly twice that of its closest competitor.
One major change that the new ownership team is pursuing is a potential move to a new and larger office. Otherwise, Erwin and Peiffer plan to continue dividing the managerial responsibilities as they have in recent years, with Erwin acting as managing broker handling the sales side of the business and Pfeiffer in charge of all the support services and accounting functions.
"Having worked with Paulette for so many years makes this about the easiest transition I could hope for," said Erwin, who lives in St Charles, Ill., and has been affiliated with RE/MAX since 1981. "She's an exceptional person with outstanding administrative and people skills. I've had a great partnership with Chris, and this new arrangement promises to be equally enjoyable and successful. We both love this business and the people we meet through it."
The office will also continue to emphasize its commitment to charitable causes, including Children's Miracle Network Hospitals, TriCity Family Services, Special Olympics and support for the men and women of our armed forces.
RE/MAX agents consistently rank among the most productive in the industry. In 2016, RE/MAX Northern Illinois agents averaged 18 transaction sides. RE/MAX has been the leader in the northern Illinois real estate market since 1989 and is continually growing. The RE/MAX Northern Illinois network, with headquarters in Elgin, Ill., consists of more than 2,250 sales associates and 105 independently owned and operated RE/MAX offices that provide a full range of residential and commercial brokerage services. Its mobile real estate app, available for download at http://www.illinoisproperty.com, provides comprehensive information about residential and commercial property for sale in the region. The northern Illinois network is part of RE/MAX, a global real estate organization with 110,000+ sales associates in 100+ nations.
####
EDITOR'S NOTE: RE/MAX® is a registered trademark. Please spell in all caps. Thank you. This release is posted at blog.illinoisproperty.com.