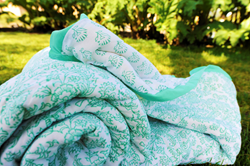 (PRWEB) June 29, 2017
Attiser linens brings vibrant colors and regal splendor of India to our favorite spaces. Attiser's signature collection of handmade linens are hand-block printed by artisans in India, a method developed over 450 years ago. Using inspiration from the flair of bright colors, blended with a refined country-French style, Attiser is bringing relaxing vibes home. Using carefully-selected, eco-friendly materials with bright, vivid patterns, Attiser will add a unique style to any room.
Discover the different design:
Dress up the dining room table or quaint breakfast nook with eye-catching Attiser fabric tablecloths from the finest handmade linens with an integration of Indian artistry and French style — they'll be an instant classical favorite.
Unique hand-block printed pieces, these expertly crafted Attiser placemats have beautiful, intricate designs. Set them out at any lavish dinner parties for a luxurious vibe!
Bring a new dimension to the kitchen with Attiser table napkins. Handmade using the ancient technique of hand-block printing, these lovely napkins are full of Indian charm! Add some subtle style to the dining area with these marvelous squares that are mini-canvases of artwork.
Whether it be for a dinner party, throwing a birthday bash, or creating the perfect atmosphere for a gathering of friends, make homes look good with the designs from Attiser. Attiser believes in the principles of ethical sourcing and fair trade and puts all its efforts into bringing uniquely designed highest quality of handmade products to the customers.
About Attiser
Attiser has a signature collection of handcrafted bedding and linens and uses a 400-year-old ancient method of hand-block printing that originated from the Thar Desert of Rajasthan in India. Founder and entrepreneur, Seema A, spent her childhood in the countryside suburb of Rajasthan where her passion for bringing a unique art of hand-block printed textiles to the US began.
She has over ten years of experience in textile design and has worked in association with leading manufacturers and importers. She has a degree in Marketing from FIDM, San Francisco and also a holds a degree in Textile Design from India. She started her career in New York working for a garment manufacturer and pursued her real passion for design. Later she founded "Attiser" to reflect the vivid colors and patterns found in the Indian culture and landscape. Believing that creativity runs on the engine of passion, Seema's desire from the start has been to create art that expresses the pure energy in color. Today, Seema maintains her role as a head designer and creative director for Attiser, located right next to Facebook in Menlo Park, California.