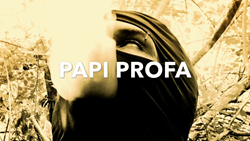 Baltimore, MD (PRWEB) June 28, 2017
DMV HipHop artist Papi Profa is back with his latest music video. The new video for his single, "EVOL", can currently be viewed in its entirety on Coast 2 Coast Mixtapes.
Born in D.C., raised in Maryland, and prepared to take on the the world, Papi Profa delivers a unique style of alternative Hip-Hop that regularly crosses various genres of music. An independent artist, he strives to get his message out by any means. Destined for stardom, Papi Profa has caught the eye of the music industry being featured on various mixtapes including, but not limited to, "F*ck Love Vol. 4," "DMV Vs Kings of the North 2," and "Just Another Mixtape 5." Debuting is first mixtape in 2016, "Ghetto Singer Boy," he portrays just how dynamic his music truly is.
From "UFO Whippin' Doin' Donuts" in his track "Know Us" to "turnin' this sh*t to Tekken" in "Touchdown feat. Sauce Lawd," Papi Profa shows just how dynamic his subject matter is. He says, "The most organic music comes from a collaboration of the heart and mind so my best tracks mix whatever I'm feeling with an subtle sarcastic twist to it." While his subject matter varies, his tracks that truly stand out regard a recent break up that heavily impacted his music. Songs like "EVOL" and "K Cool" give leads to his current status regarding the experience.
Pushing forward, Papi Profa is preparing to perform in Baltimore, MD at the Depot on May 21. He hopes to deliver his most fan-favored tracks, including collaborations with Sauce Lawd. "Keep grindin, people notice and flock to a n*gga that's on his sh*t and givin' a quality product."
About Coast 2 Coast Mixtapes:
Coast 2 Coast Mixtapes are the most widely distributed mixtapes in the world, with over 100 million downloads/plays generated by over 300 volumes officially hosted by major artists. Coast 2 Coast has a solid reach in the new music industry with a digital magazine, DJ coalition, industry tips blog, yearly convention, and more. Coast 2 Coast Mixtapes represents a unique opportunity for artists of all urban genres, from major to indie. For more information, visit http://www.coast2coastmixtapes.com